#1
13 years ago
THE RING OF THE NIBELUNGEN. Act 1: THE RHINE GOLD STUDIO: The Vandhaal ( member of Tsunami studios) PROGRESS:95 % RELEASE DATE: unknown TYPE: Campaign Mixed game types Rpg/ Fixed forces/ Build and destroy INFO:
__________________________________________________
The Norns discover that their spinningwheel has made a knot in the rope of time... It is an ill omen. The Dark Alba will rise. He will change the worlds of mortals..and gods...forever....in the end, he can cause the downfall of the light Alba himself Alberich the Nibelungen(A Nightdwarfs) steals the magical Rhinegold from the Daughters of the Rhine...With the powers this treasure holds he finally can fullfill his longlast dream: to become the ruler of Nibelheim and the entire world. As Alberich and his army start their tour of destruction he is not aware that he will play a key role in a deal between Wotan ,the supreme leader of the gods, and the Titans....
The Campaign will take you from the underground world of Nibelheim along the various races which live along the river Rhine up into the realm of the gods themselves and... back.You take controle of Alberich, his generals and his legions as they proceed to meet their destiny...

Alberich ( Nibelungen) The tyrant Nibelungen who steals the magical Rhinegold from the Rhinedaughters. He forces his brother Mime to forge the magical ring from it.

Mime (Nibelungen) The brother of Alberich. Although he is afraid of his brutal brother do not judge him to swift as a poor character. Mime is the best blacksmith in Nibelheim

Wotan (Gods) The lord of the gods. Wotan walkes a lot among the mortals in different shapes. One well known shape is as a giant wolf. He has felt the growing powers of the Titans and is afraid that they will revolt one day.

Loge (Spirits) The servant of Wotan or as Alberich calls him : the slave of Wotan. because Wotan has forbidden Loge to change ever again into his elemental form without permission. Loge dreams of the day he can change into his fireform and scorge the earth again. Loge is a trickster and a clever mind..

Fafner (Titans) The oldest of all Titans.Because of his long live he loses his interest in the world around him more and more each day. He and his brother Fasolt are the rulers of all Titans and the fathers of the giants

Fasolt (Titans) The titans where always oppressed by the gods but Fasolt was the first who's mind was set to get freedom for the Titans. Although the time had not yet been come to confront the gods He and the other Titans had gained much strenght over the past ages. Please Notice: above images are artist impressions ..so NO mods..You all probably know to which units in the game they referre If you like to see/read more about some of the other characters please go to the artwork pages. Not all main characters are mentioned so you will encounter some more in the campaign
__________________________________________________
Features
8 playable and 10 full cinematic scenarios
Playable scenarios have mixed styles: rpg, ff, b&d
Playable scenarios contain many cinematic parts
All cinematics are very detailed
Maps are very detailed and have personalized location features (some of you call this eyecandy I just call it detailed)
Rpg scenarios contain *"simple" puzzles and *"simple" interaction (like bying stuff, choosing turning points, talk, etc.[whisper]*At least: In my point of view they are simple[/whisper]
Some scenarios contain weather conditions
The sound/dialoque tracks are based on Leitmotifs just as the original opera.
A nice story line. Links to the next parts of this tale (The valkyries, Siegfried and the twillight of the gods) are embedded in the storyline.
For the techlovers amongst you: Campaign contains some nice trigger work (I lost count on how many but who cares...)
In some scenarios the player can use the Rings shapeshifting power.
Well a lot more of stuff which you have find out yourself.
__________________________________________________
Screenshots, Artworks and Wmv movie Screenshots To view some preview screenshots please go to the Vandhaals Aom screenshots pages:
Artworks Info and images on/of the main characters and special made artwork Screenshots can be found in the Aom artwork sector of The vandhaal website: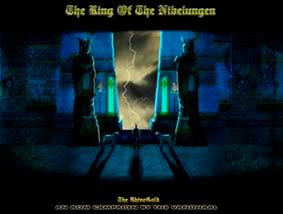 [Click here to see an enlarged version from the above Artwork] Wmv movie You can download a little Media player movie version from the cinematic called: Clash with the Gibicungen (scen 12). Runtime aprox. 26 minutes
__________________________________________________
Wagners Ring saga The Rhine Gold is based on the first Opera in the Ring of the Nibelungen cyclus by Richard Wagner Wagners Ring of the Nibelungen cyclus consist out of 4 operas.Besides great music, you all will probably know The Ride of the valkyries, the story is an interesting mix of heroes/ magic/ battle/death/deceipt.Wagners Operas are based upon the old tale of Das Nibelungen Lied (German, Low Lands and Norse myths) The 4 operas are called: (1) The Rhine Gold (current campaign project) (2) The Valkyrie (possible next project..who kowns...) (3) Siegfried (possible next project ..who knows..) (4) Twillight of the gods (possible next projects..who knows) If you like to read a short description of the other 3 parts of this tale, please go along this way
__________________________________________________
General progress statistics:
scen1 95% Full cinematic prologue
scen2 95% Rpg
scen3 95% Full cinematic
scen4 95% skippable instruction cinematic
scen5 95% Mixed: Rpg + FF + B&D
scen6 95% Full cinematic
scen7 95% B&D
scen8 95% mixed: Rpg + FF + B&D
scen9 95% skippable instruction cinematic
scen10 95% Full cinematic
scen11 95% Mixed: FF + Puzzle
scen12 95% Full cinematic
scen13 95% Rpg
scen14 95% Full cinematic
scen15 95% B&D
scen16 95% Full cinematic
scen17 95% B&D
scen18 95% Full cinematic
First final playtest round: The Vandhaal Status: completed Second final playtest round: Playtesters: Second final round tester: 1) Antisback 2) Liv3 3) Felix Hermansson 4) King Jared 5) Auron 6) Tbarak Status: Completed, editing is at about 100% (so completed) Last final round tester: The Vandhaal status: Has started and is at about 10%
__________________________________________________
More info and Contact Email or visit The Vandhaal website if you like to know more or just leave a reaction. email [email="webmaster@vandhaal.zzn.com"]webmaster@vandhaal.zzn.com[/email] web www.geocities.com/the_vandhaal
---
#2
13 years ago
Above you can find a update on the project.
I also made some small Wmv movies so you can already have a short preview (see main topic above for the download) Best regards The Vandhaal
---
#3
13 years ago
It's looking really good Vandhall. I've been watching your project ever since you announced it to the AOM community, and I'll say I'm impressed! I really like your mods, the detail is superb. Probably the best aspect of this project is your cinematic eye, which really seems to be making you project very appealing. When you finish, please send me an email, as I'd love to download it!
Just wondering, your using a geocities website, if you'd like, I can offer you for free, a subdomain at my website. My web is www.gamingextremes.us. Currently we have 3 subdomains(1 still being worked on) that are gaming related(mostly AOM related). www.i-39.gamingextremes.us , www.auron.gamingextremes.us , and www.xero-games.gamingextremes.us(under construction). Or you can put your file on my site, I don't mind. There's plenty of space to go around and bandwidth, so it could work out for you pretty well!!
Good Luck!
---
#4
13 years ago
Oh yeah, I forgot that you had a site in construction at elpea.net. Well anyways, feel free to still take my offer, even if you would just like to use my site as a mirror download location. I think one of my friends, Xero, has an elpea.net site...I wonder if you know him?
---
#5
13 years ago
Thanx for the reactio Paco,
and thank you for your offer. yes I know xero from aomH and i also know Auron (we are Tsunami Studio teammates).
I just had updated my geocities website before i got the elpea site. (I needed space and bandwidth for the download of the above wmv movie).
I am sure I could make good use of your offer in the future but I now have to think how I should set up the stuff again (yes luxury problem I know).
A mirror download sounds good but it would be a shameif i didn't put anything up there...so to be short I have to think of how I would redseign the entire website setup.
So thanx again for the offer and i will get in touch with you as soon as I know what i like to do.
About the project above:
Nice to hear that you have followed it from the start. To bad that I have to work on it in fases because I have a very busy other world life. Well when i release it i will anounce it in several forums . I put a lot of effort in the project and tried to create for everyone something ( so newplayers and expereinced players) so i hope nobody gets disapointed ;)
Best regards,
The Vandhaal
---
#6
13 years ago
An absolutely amazing new campaign by an even more fantastic expert scenario designer than myself! Enjoy breath-taking cinematics, multiple modes of gameplay, challenging and unique scenarios, and an excellent story line all contained within one beatiful piece of artwork! I have never been so impressed by ANY campaign as much as I was with The Ring of Nibelungen Act 1: The Rhinegold. I am honored to be one of his final playtesters and to have the privellage of hosting his sub-domain. This project is absolutely excellent and I hope you all have the same experience that I have had with it. Check out these amazing pictures from the cinematics:
---
21st March 2005
0 Uploads
#7
13 years ago
dude, vandhaal remember me? it's blink from SWGB. We played together with link, blaine, maj and them
---
#8
13 years ago
....has anyone here ever talked to The_Vandhaal on MSN?
---