#1
13 years ago
ok im having some probs with avp 2 on my windows vista like i can't use any mods and for some reason my nite 3rd vison on pred don't work it just goes black and the same for aliens veiw :S any help wud be nice :cool:
---
#2
13 years ago
Only real help you can get right now is: Check for the updates on drivers, and dual boot the system with windows xp. You have reached a turn of games and technology. That game is older than most .... And you can't expect it to play correctly on an os it wasn't designed for.
---
#3
13 years ago
[COLOR=red]It could be a graphics Driver issue...... because, i also have a dual boot system, and half of my games work.... same for avp2... (but it's a bit slow tho) btw make sure you install "AvP2" on another drive.... i hear if you install it on the C:/ Drive it causes alot of problems... (Typical security feature in vista it is)[/COLOR] [COLOR=red]so it should work....[/COLOR] [COLOR=red]because if AvP2 works fine on XP 64-bit, then why the hell wont it work right for Vista 32-bit (if that's what your running)[/COLOR] Has to be a Graphics issue. [COLOR=red]x-M-x[/COLOR]
---
#4
13 years ago
it is the os interface Mandalore.... Just like trying to run a game geared for win95 or 98 on xp. You have a chance of it working, slim though it may be, a chance.
---
#6
13 years ago
Again..... there are instances where it doesn't. Your hardware is not the same as others who may be having problems. This is a vista issue across the board. Break out some nice old win 98 games and see if they run on vista.
---
#7
13 years ago
more probs with vista =/ like truning on 3rd person veiw :Puzzled:
Spoiler:
Show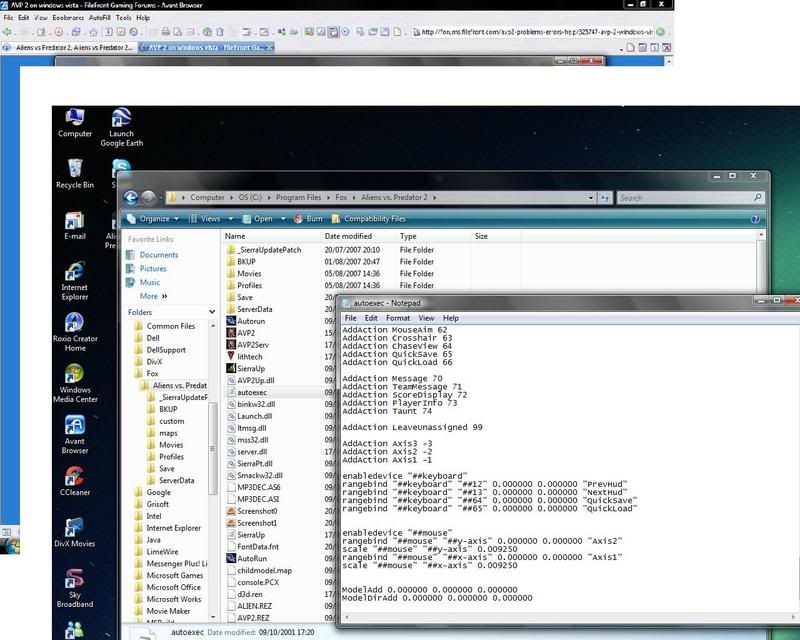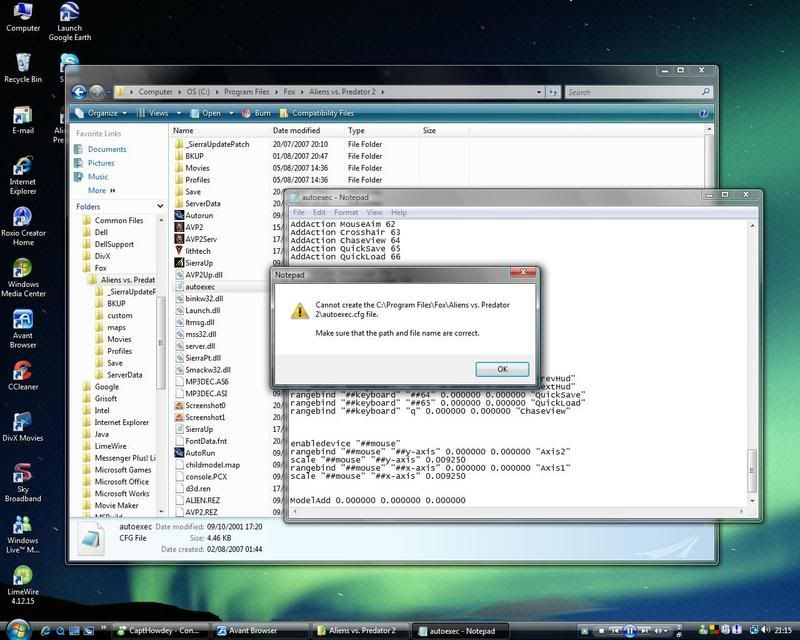 dam u vista!!!!!!!!
---
#8
13 years ago
To coin an internet phrase AHEM!!!!!!!
That is your pc pwning joo!!!
But seriously, this is where people just need to give up the ghost and dual boot if they want to continue to play the old games.
---