#1
16 years ago
Can you use your joystick to look around with your infantry. Not strafing, but looking around. Im hoping i just cant find the button. Please help. THANX
---
#3
16 years ago
Maybe the mini joystick by the firebutton. Like an 8-way cap switch or something.
---
War Hawk
۞ www.thisisnotporn.com ۞
50 XP
27th January 2004
0 Uploads
#4
16 years ago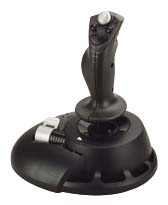 see the silver circle on the top of my joystick, well thats the 8-way cap oompa was talking about. thats the only thing i could this of.
---