#91
12 years ago
Oh yeah! I forgot the pics............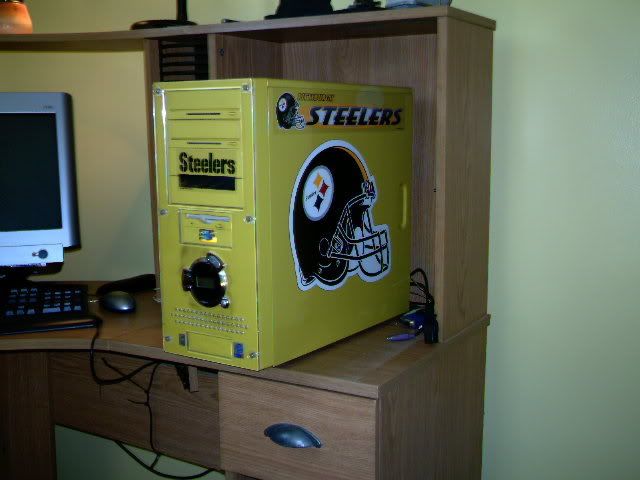 ---
#92
12 years ago
1998-2001 First pc some specs I've forgotten Manufacturer: Daewoo OS: Windows 98 Processor: Pentium 3 500MHz Memory: 256MB RAM I think Hard Drive: 4GB Hehe the name of one of the games I played on there I can't forget, Wargasm. 2001-2005 Manufacturer: Packard Bell OS: Windows XP Home Edition Processor: AMD Athlon 1600 1.4 GHz Memory: 256MB RAM Hard Drive: 40 GB Video Card: Radeon VE 32MB Sound Card: Built in (I think) Monitor: Packard Bell 15" 2005-Now OS: Windows XP Home Edition Processor: Pentium 4 3.0 GHz Memory: 512MB RAM (Gonna upgrade soon) Hard Drive: 76GB Video Card: Nvidia GeForce 6600 256MB Sound Card: Avance AC97 Audio Monitor: Philips 17" Flat Screen Can JUST play Battlefield 2142
---
10th August 2006
0 Uploads
#93
12 years ago
Well, ........um............. dang, I dont even know my own computer stats, I really didnt care cause its so slow, the only thing I can remember is that its called an HP Slimline, very crappy gaming computer. I cannot wait to get a new one.
---
#94
12 years ago
I have an Intel Celeron 2.4 Ghz with 6600 GT and 1 Gb RAM. BF2142 gets uber-jerky when my computer has to draw 20 players at the same time(I never got to servers with more than 25 players allowed) and my K/D ratio is still over 2.5 so HAHAHA. Can't wait to get my Pentium D 805 at Xmas. :bawl:
---
#95
12 years ago
i got an upgrade. currently i have 2 PCs
April 2006
AMD 4800+ X2 2.4GHz (liquid cooled) Nvidia GeForce 7900 GTX 512 OCd to 700MHz, 1GHz (liquid cooled) X-Fi Fatal1ty X-Ram Ageia Physx 128mb P1 2GB ram 250GB HD Windows Vista RC1 X64
November 2006 (i still have the one above)
AMD 5200+ X2 2.6GHz (liquid cooled) ATI X1900XTX 512 GDDR4 (liquid cooled) 3GB ram X-Fi Xtreme Gamer X-Ram Ageia Physx 128mb P1 160GB Hd Windows Vista RC1 X64
---
28th March 2004
0 Uploads
#96
12 years ago
Manufacturer:Raidmax Scorpio 868/550watt w / Asrock 939 Dual Sata 2 Processor:AMD Athlon(tm) 64 X2 Dual Core Processor 4600+, MMX, 3DNow (2 CPUs), ~2.4GHz Cooler :Thermaltake Golden Orb II (100 x 24 mm/20`celsius@150O rpm) Memory:2048MB Kingston DDR 400 Hard Drive:2 x 120GB Maxtor/1 x 160 Western Digital Video Card:ATI Radeon X1900GT 256mb Monitor:HP 1110 / 21" flat Sound Card:SB Audigy 2 Audio 24bit Keyboard:Logitech PS/2 Keyboard Wireless Mouse:Logetech PS/2 w/o/rechargable Operating System:Windows XP Professional (5.1, Build 2600) Service Pack 2 (2600.xpsp_sp2_gdr.050301-1519)
---
28th March 2004
0 Uploads
#97
12 years ago
O and heres a pic of my rig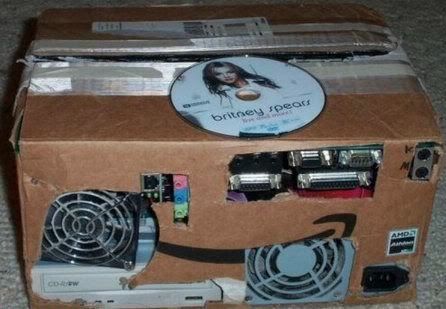 ---
#99
12 years ago
AMD 64 2.4 GHz 1GB ram nVidia 7800 GS 256MB 15GB HD 80GB HD 400GB HD
---
#100
12 years ago
amd athlon 64 3800+ 2.4ghz 1280mb of ram 250gb HD 7200rpm evga geforce 7600gs passive (overclocked to 525/500 i attached a fan to it, it runs cooler than everything stock);) 500w psu
---