#1
14 years ago
ok guys, i was looking at the EA Test Lab video which i got sent a link to from that ea monthly newsletter thing, now, in the attachment there is a small picture, from the video of a monitor, and on that monitor is BF2, but the guns looks VERY much like an SA80 so could you please tell me what gun it is because if it is the SA80 then i am a very happy guy because the SA80 is a british weapon. This is the pic
thanks ps. this is an SA80 for those of you who dont know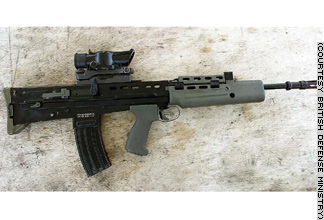 ---
#2
14 years ago
The newsletter seems to be slow getting to me. Is it a brand new newsletter? If so, can you forward it to [email]bigdaddy@filesnetwork.com[/email]
---
#3
14 years ago
Nvm, I got it finally. :D
---
8th December 2004
0 Uploads
#5
14 years ago
i watched a movie of some DEV playing BF2 and he said it is the MEDICS unlockable weapon, i dunno what its called
---
6th December 2004
0 Uploads
#6
14 years ago
sweet a SA80.....maybe there will be the AUG :)
---
#7
14 years ago
well i hope the US dont use the SA80, since they don't :) , but i hope to god that this will mean the British are in the game.
---
#8
14 years ago
HO-LY Mackerel!! :eek:
That is indeed an SA80 by the looks of things. OMFG. I need to upgrade. Now.
---
#9
14 years ago
its very easy to find the unlockable weapons. Just look at any screenshot of a spawn screen. You can see alternate weapons in a black outline. The assaults secondary is a G3 I used to think the SA80 was the L85 but i must be confused. Anyways the snipers alternate wep is the M95 and spec ops can either have MP5 or Car15 the medic gets the SA80 and the alternate weapon for the engineer is the jack hammer which is a semi auto shotgun. THe anti armour gets the DAO-10 which looks somewhat like a grenade launcer to me.
---
6th December 2004
0 Uploads
#10
14 years ago