#1
12 years ago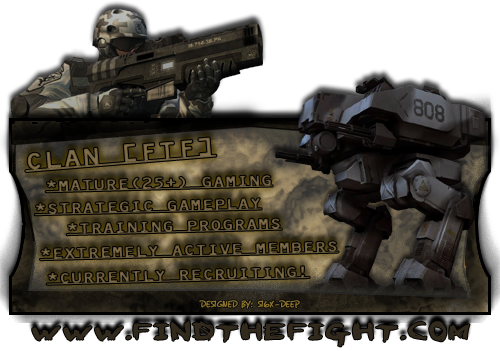 Looking to join a mature gaming clan? Are you 25 or older? We are currently recruiting new soldiers for BF2142 and BF2. While the focus of the Clan is on the Battlefield series, our members also get together play WoW, Guild Wars, Call of Duty and other fun games.
If you're tired of playing with disorganized pickup squads and kids intent on ruining the fun for everybody then ours is the clan for you. In Clan [FTF] you'll experience adult gaming at its best: effective communication, strategic game play and no immature behavior or dirty tactics. Our members forgo personal achievement, prefering to use squad-based tactics in order to achieve victory. Most importantly, win or lose we always have fun.
We also understand that you have a job, a family life, and other responsibilities. Clan [FTF] maintains a no pressure atmosphere. Our members can play as much or as little as they like. We have both hardcore and casual gamers.
If you're new to Battlefield gaming series, we can even help you improve your skills through our voluntary training sessions. Our veteran drill instructors will share all the techniques and tips needed to become a real asset to your squad and a liability for your opponents.
We currently have 60+ members and are growing all the time. You can join [FTF] without having to pass any tests. All we ask is that you participate in a short recruiting process designed to make sure that Clan [FTF] is the right place for you. Join now and enjoy camaraderie while playing some of the hottest games on the net!
Stop by www.FindTheFight.com and fill out an application today.
***JOIN US ON OUR RANKED BF2 SERVER*** CLAN [FTF] - SAY HI WITH A BULLET! 72.232.214.66:16567
BF2142 Server coming soon!
---
#2
12 years ago
Our 64-player ranked bf2142 server is up and running! Come and join in the fun!
BF2142 Server: Clan [FTF] - 2142-Battlefield.com 72.232.120.189:16567
---
Fo0cH
I'm too cool to Post
50 XP
16th April 2008
0 Uploads
#3
10 years ago
i'm looking for clan to join please contact me msn [EMAIL="alex.f@live.ca"]alex.f@live.ca[/EMAIL]. i play full time and will do what it takes to make the cut thanx
---