30th January 2004
0 Uploads
#21
16 years ago
OK well first off, I never said people shouldn't be allowed to use enemy small arms. In fact I said they SHOULD be allowed to use them (with the small penalty of not being allowed to get more ammo at the ammo dumps). The same goes for standardized vehicles such as cars and trucks. NOw as far as EVERYONE IN THE GAME being able to use enemy tanks, planes, ships, etc. I think this is contrary to reality. I might have exaggerated when I said that this "NEVER" happens. I'm sure that during a 6 year world war there are some cases of enemy vehicles being used (or attempted usage). I am however impressed that you people were able to immediately contradict what I had said with pictures and facts. Good for you guys. But I have heard a few WW2 veterans (both german and american) talk about how they did not use enemy weapons. They did not use enemy small arms because of the danger of firendly fire (they were very attuned to the different sounds of various small arms). And that they didn't use enemy vehicles (I'm assuming they don't mean cars, etc) because they were not trained to operate these vehicles. ****Obviously this is a generalization because we KNOW there are cases of soldiers using enemy small arms, and apparently there are cases of soldiers using enemy tanks (thanks to you guys). But I am just trying to show that even soldiers who fought in the war would agree that this scenario is at the most and extremely rare one. I think this game should be based in relaity as much as possible. And I believe that having no one be able to use enemy vehicles is a much more realistic scenario than having EVERYONE being able to use enemy vehicles. And as far as small arms, this doesn't really affect gameplay too much, and in the real war soldiers COULD use enemy small arms, they just chose not to in most circumstances. And while I think it is definately likely that a soldier in a desperate situation will pickup an enemy rifle and use it as a split second decision, I seriously doubt a soldier would try to get into an enemy tank in a desperate situation (e.g. capping a point). When this did happen, it would have had to have been planned out well before the battle. I don't think in any of the cases you guys listed, these vehicles were stolen and used DURING combat. I'm assuming (flamebait) that all these vehicles were seized after a conflict and then used in a later battle. In which case technically they were NOT using enemy vehicles, they were using they're own. I do not have a problem (like someone else suggested) with having a T34 belong to the germans in a particular map and having a big swastika painted on the side. I think that would actually be really cool. I just think that you should only be able to use whatever vehicles your team starts with. So you can fire on vehicles just by what they look like. **This is not a flame*** ok about the picture with the russians in the german tank. But having a picture with russians standing on a captured german tank does not mean that they stole it and then used it in combat. I'm not saying they didn't. IF you know some facts about that particular picture, then I'll gladly retract my statement. But there are many pictures of americans standing on german tanks too, and as far as I know in none of those cases did they use them for their own later on. And also about the magazine article "How to drive a german tank" or whatever it was, reading it in an article is a BIG difference than having formal training. Even if some engineers figured out how to drive a german tank in the lab, and wrote an article about it, I seriously doubt there are many tank drivers who used this article to physically jump into a german tank for the first time in the heat of battle. Like I said before: if you can prove me wrong great, and I'll gladly retract anything I've said.
---
27th April 2003
0 Uploads
#22
16 years ago
There are thousands of cases of Allied and Axis soldiers using enemy weapons. They were mostly Sub machine guns or semi automatic rifles. There are thousands of accounts of Americans using MP 40s and panzerfausts and there are thousands accounts and many picutres of German soldiers using PPshs and SVT 38s and 40s in the early war. The general consensus among WWII soldiers is that you could never have to many Sub machine guns. This was often the case in North Africa and Italy the Brits tended to use captured M 1938 and MP 40s to supplement there early war thompsons.
Also could you PM about the POW how stole the FW 190?
---
#23
16 years ago
For those who wanted to know more about the Mustang pilot that flew back to Britain in a FW190, go here. I originally read this in Flight Journal, but this is the same article.
Secondly, I'm don't know much about the Eastern Front, but from everything I've ever seen about the Americans/British having Axis equipment it was used to gain the technology, find the flaws, and to develop new vehicles and tactics to beat them (ie, the Zero found in the Aleutians, the RAFwaffe, etc). Not to say some vehicles weren't used, but I doubt anyone would come up to an abandonned enemy piece of armour or plane, jump in, and continue fighting as if nothing was out of the ordinary when there are friendlies around.
---
#24
16 years ago
The picture I posted with the Russians on the Panzer, according to the caption it was captured from the 18th Pz Div. and then used in battles on the Western Front Soviet Gen. Guderian's 2nd Tank Group in August of 1941. I do not know the details of the capture, as the book this information is from is published in Russian Cyrllic (sp). As for this: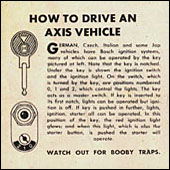 The paragraph reads: German, Czech, Italian and some Jap vehicles have Bosch ignition systems, many of which can be operated by the key pictured at left. Note that the key is notched. Under the key is shown the ignition switch and the ignition light. On the switch, which is turned by the key, are positions numbered 0, 1 and 2, which control the lights. The key acts as a master switch. If key is inserted to its first notch, lights can be operated but ignition is off. If key is pushed in further, lights, ignition, starter all can be operated but ignition is off. If key is pushed in further, lights, ignition, starter all can be operated. In this position of the key, the red ignition light glows; and when this light, which is also the starter button, is pushed the starter will operate. I know it's not a TM on using an enemy vehicle, it does tell you how the ignition works. It's interesting none the less that it was published in Yank in the first place. As for capture and usage in heat of battle, I did say I'd research that. If it did or didn't happen, it's out there......
---
#25
16 years ago
It would be better if the helmet switching was fixed. Just because you pick up an enemy gun doesn't mean you want his helmet.
---
28th April 2003
0 Uploads
#26
16 years ago
In reality, yes it took some specialists to go in there and figure out how an enemy tank worked, and a team had to be trained to use the thing, but also in reality you don't respawn. I would agree with your emotion but I don't see any feasible way of getting rid of the tanks that are there and this is quite an obstacle. One on hand it's unrealistic to drive a panzer4 after being a rifleman but it's also unrealistic to blow up an untouched tank at a newly captured base, if you're lucky to be an engineer (who wouldnt be so close to the frontlines anyway)
---
#27
16 years ago
I've got some pretty reliable sources (History Channel) looking into the matter of stealing and using enemy vehicles (armor) during battle. We'll see what they come up with.
---
#28
16 years ago
It's just a game. It is pretty easy to set certain object spawns to be operable only by the owner team. On my maps I've done this for the more complex pieces of equipment such as the tiger, nebelwerfers, planes, but pretty much leave the rest alone. If you have everything setup that way, you'll just piss people off.
---
#29
16 years ago
I have seen pics of Brits using cuckoo, a captured Panther.And I have seen pics of a King Tiger captured by American troops. And Russiand and Germans both made extensive use of captured vehicles.
---
#30
16 years ago
Yeah, much as I'd like this particular feature, I just don't see any practical way to implement it such that it wouldn't REALLY harm the capturing team. IE: think of the airfield on Adak. You've got three or four tanks, a whole mess of planes, some jeeps, and the destroyer. Now, the destroyer is a quick fix because ships are already uncapturable (or should be when working properly). But what would happen to all that equipment if you capture the airfield as the japanese? Unless you blow it up, just having it sit around is dangerous to your team when the allies mount a counter-attack. It would royally suck to have worked hard to capture a base, only to have it snatched from your control because some guy ran up to a nearby tank, hit "E" and started blowing your guys away.
---