9th December 2003
0 Uploads
#11
17 years ago
hehe, i found it too (too bad that lightning dropped a hint after i told him that i knew the coordinates of the scoped STG44. Made my search a little easier :( . Thanks lightning for ruining my search! hehe j/k. I'm sure that there are more hidden weapons... guess that I will just have to waste my day tommorow search for them! hehe
---
#12
17 years ago
I think the scoped stg44 is called the stg44 zf and it could also carry a night vision acope :cool:
---
#13
17 years ago
MG42ManiacOn the subject of pick up kits....

Anyone found the scoped STG44 yet? Armin told me it was in there on MSN yesterday i spent like 30 mins looking for it but have yet to find it.:(
Man, that avatar is so gay.
---
#14
17 years ago
TommyGunDalianiMan, that avatar is so gay.
---
#15
17 years ago
oooo that scoped stg44! i think it would look a lot cooler if you guys put the scope from the g43zf4 sniper in SWoWW2! ill post a pic m'kay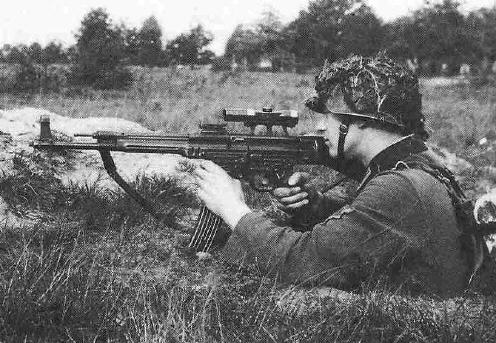 the scope looks like the one from SW on the G43 ya think? o well you guys have done a nice job on everything!
---
#16
17 years ago
That's a Zf-4 scope on that STG-44, it was the default G-43 scope of 44-45.
---
5th October 2003
0 Uploads
#17
17 years ago
Call me stupid, but why does every cool weapon have to be hidden from view. I mean it takes ages to find a deployable machinegun, snipers are more common, but that stuff.....why even add it if the possibility of finding them is very small.
P.S. MG's avatar is not gay at all......
---
30th November 2003
0 Uploads
#18
17 years ago
The Mors SMG is a really nice weapon:
---
#19
17 years ago
well matyast....
this makes the weapons m,ore unique on a bf because they where not as common as other weapons
and if gives also the experienced FH players an advantage
but in 0.62 you will find a few more kits in some maps hrhr ;)
---
#20
17 years ago
I found the Stg-44 zf in 6 minutes. Lack of imagination, devs? :D
---