#1
16 years ago
I posted this in the suggestions forum and got no replies. I think this would be a great map and I need some opinions.
Although the two nations weren't officially at war, Japan and the Soviet Union partook in constant territorial disputes in the late 1930s. Tensions between the two powers escalated and it all led up to the August 1939 battle of Khaklin-Gol in Outer Mongolia. Few people know this, but Soviet-Japanese conflicts took place even before the Japanese attack on Pearl Harbor and the battle of Khaklin-Gol was actually a precursor to the world-wide war which would erupt just days after its commencement.
After taking over Manchuria, the Japanese began to spread north into Siberia in 1939. Red Army reinforcements were brought in under the command of Marshall Zhukov. There, The Japanese troops were were surprised and encricled by an army of 57,000 Soviet troops, 500 tanks, and about 400 armored cars. The final casualty statistic was 61,000 Japanese casualties and 23,000 Soviet casualties. This battle proved to the Japanese that the Red Army was a formidable force. After that, Emperor Hirohito vowed never to invade the Soviet Union again and he kept his promise. Largely because of this, a 2nd Axis front was never opened up against the Soviet Union. Such an action would have diverted lots of Soviet troops from the German front and weakened the Soviet defense (this isn't to say that the Soviets would have automatically been defeated. After all, the Japanese army would not have been ready for the harsh conditions of Siberia and would have been outmatched in the inevitable tank battles that would have occurred in the great open plains of Eastern Russia.)
This would be a great map to make, with a Japanese base in the center and 3 or 4 Soviet control points outside of it, all situated on the Khaklin-Gol River. The Soviet-Japanese threater is often overlooked and there aren't any Soviet-Japanese maps in the game. This would be an awesome map in my opinion and I recommend that some people from the FH team do some more research on the battle and try to make this thing happen! Thanks.
---
#3
16 years ago
yup..its true. We have someone from ukraine in siege mod and hes told me all about those battles because he has relatives that fought in WWII for soviets
nice idea. I havent seen the japs battle anyone other then USA in BF hopefully this idea will change that ;)
---
#4
16 years ago
We have a japanese-russian map already finished: Hailar (Manchuria), it will be in the next patch
---
#5
16 years ago
The so-called Nomonhan "border incident", this never happened in the worlds of the two governments. In fact this was a full-scale invasion that based itself on the "go north" strategy. The japanese were divided upon the question of how and where to get the resources their empire required. It was either USSR or the various colonies to the south, primarly Dutch East India. Probably still high on the result of the war of 1904-05(whitch really was the basis for all their thinking) they figured Ivan to be easy pickings. The japanese recieved such a beating that they dropped that plan forever..... An interesting thing is that this is the most impressive thing that Zhukov ever did, a true masterpiece, and NOBODY knows about it! It's like Austerlitz(Napoleon) and Leuten(Friedrich der Grosse) never took place.
I doubt the T-34 really took any part in this battle, because it would by that time still be very much a prototype and it would certainly not be used in such an "unimportant" region.
Could be interesting...it would require some "oddball" pre-war russian tanks, I don't know what they used here, probably T-26 and T-28, maybe some BTs and an amphibious tank or two, maybe even a T-35, would require some serious research to get this one right, there is simply so little stuff available about it....and we need the Rata and Chaika of course...
or we can have the Manchurian campaign of 45, the most one-sided mlitary campaign ever...and that includes both Desert Storms. Yes, IS-2's and ISUs versus lightly armed japanese infantry without anything resempling a potent AT-weapon. Could rock for those lucky enough to play russkies :D
---
28th April 2003
0 Uploads
#6
16 years ago
i tried my best to make the '45 manchuria map possible for the japs. ruskis start with 100 or so tickets less, the supply of chi has is exaggerated, but ammo isnt so abundant. they have schrecks though so it might even turn out the commies have their work cut out for them.
---
#7
16 years ago
judge reinholdi tried my best to make the '45 manchuria map possible for the japs. ruskis start with 100 or so tickets less, the supply of chi has is exaggerated, but ammo isnt so abundant. they have schrecks though so it might even turn out the commies have their work cut out for them.
I really don't get why the Japs end up getting German weapons in lots of occasions. The steilhandgranate, kar98, and the panzershreks you just mentioned are such examples. If you want realism, get rid of those, do some research, and add the weapons that they actually had.
As for Japanese AT in Manchuria, I'm sure they had some kind of tripod gun with which they knocked out tanks. Something of the sort can be added. Of course, they wouldn't be as powerful as the German AT guns, but they could have some aded bonuses like range and added ammo.
---
28th April 2003
0 Uploads
#8
16 years ago
well the thing with that is that the fh team has the right rifles and grenades for the japs, but they need work. its kinda naive to think that the fh team dont know that the japs didnt use stick handers and k98's when there is evidence everywhere that they researched everything. also, AT rifles are coming in, but until then, the japs gotta have something to knock out opposing tanks besides the international expacks and mines.
---
#9
16 years ago
The only Japanese AT guns I could find were these...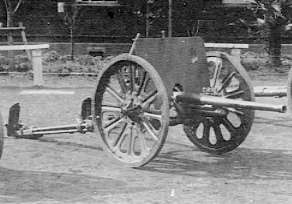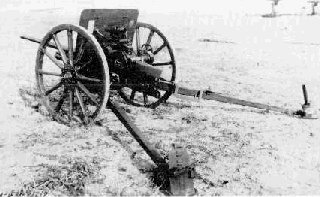 I suggest putting a lot of these on the map (and maybe even making them movable), adding tickets for the Japs, and starting them off with more bases (after all, they were stationed there for a while before the Soviet invasion). This would be a truely realistic map.
---
25th October 2002
0 Uploads
#10
16 years ago
Oh great, now all those fucking morons who think the russians won the war single handedly will have even more "proof"
---