#1
10 years ago
Clan name: 1st Tactical Elites Clan Founder: HazeyFlow Xfire clan page URL: www.xfire.com/clans/1stte/ 1stTE Website: www.1stte.ace.st
Attention All Gamers
My clan, 1st Tactical Elites, is currently recruiting. Do you want a team working clan? Do you want a active clan? Do you want a clan that will lead you to victory? Well 1st Tactical Elites are for you. We are actively recruiting players like you to join our rosters. 1st Tactical Elites is a fully structured clan that uses the U.S Military ranking system. Now you may say, " This clan is all serious ", but you are wrong. We are all about having fun, and matching and winning at the same time. 1st Tactical Elites is a clan that uses xfire as a primary source of communication located at (www.xfire. com). We also have a fully functional site located at(www. 1stte. ace.st). We deeply encourage EVERYONE to sign up and post on our forums even if you do not want to join our clan. We could always use some new friends around. You want to join? Come check us! http://1stte.ace.st/ Join Today!

---
#3
10 years ago
Hey. my name is nick. I have XFIRE, and TEAMSPEAK. my XFIRE username is nhfgl, feel free to add me. im 14. Honestly, i don't have Battlefield 2, only Battlefield 1942 (don't let this stop you from reading :D ) I just ordered a new computer from DELL, it will be here in 19 days. My current computer doesn't have the requirements to work with Battlefield 2. My new computer has a 23" monitor, 6GB ram, one of the best Graphic Cards available, and one of the best Sound Cards available. After i get my computer i'm going to buy Battlefield 2. Assuming that Battlefield 1942 and Battelefield 2 are somewhat the same, i should pwn all :D I am almost always on the top of this list on Battlefield 1942, and i have a mod that has choppers (which i am REALLY INSANELY good at flying. i can do barrel rolls and back flips :D ). I am online a lot. It is usually hard to find a good clan, so i'm starting my search early. i can update or download any mods/maps that are needed. Ok well reply to this or add my XFIRE (username: nhfgl). Keep in mind that I will start as a Private (obviously) and work my way up. I should be at my highest skill level within a couple of days, considering that i play BF1942 all the time. Also keep in mind that i just spent 20 minutes writing this to pursuade you to let me join, and i really usually dont talk with proper grammer like this lol. (you=u.) u know all that simple stuff. Thanks for reading this INCREDIBLY LONG message. lol. I'm looking forward to hopefully joining your clan. Thanks again. Nick
P.S.: I DON'T MULTICLAN. just though i'd make that clear, it bugs me when people do that.
---
#4
10 years ago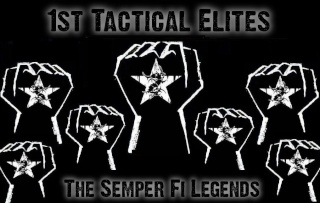 This is a gmaing clan of gamers without regard to race, ethnic origin, religion, age or gender. We take great pride in our heritage, seek to build common bonds among all members, their descendants, and host a part of SemFi(1st Tactial Elites)any where in the United States and Europe. Our clan is one of the most vibrant clan but with you supporting our goals and helping strengthen the SemFi| this will be one of the best clan on the internet. There are tons of ways for everyone to interact and have fun in our clan, so ready to rock. We are a top notch Shooting, Racing, And Strategy clan, and now we have a website to mach it. We have chatbox, forums, commenting, everything what a gamer needs. Introduce yourself in the forums and comment on stuff so bookmark this site to your favorites and tell all your friends. We are really excited to get this up and running, it will be awesome. This is a PC, Xbox 360, And PS3 Clan. 1st Tactical Elites Clan Founder: LethalCommando
---