#1
15 years ago
Last time I posted here I was asking about how the 1.12 patch @#$%ed my BF2 (CTD whenever I connected to servers), but I haven't had a chance to try and work out the problem until recently (midterm season just ended, after all).
Problem: I tried to uninstall the game, but when I lauched the uninstallshield file, it crashed before it could really do anything. The icons stayed on my desktop, the DICE registry entry remained, as did the entry on the start menu. But the game wouldn't start now. Whenever I put in the disk, it asks me if I'd like to re-install. I try that, and the installshield crashes.
Its just for this game, I can install/uninstall anything else w/o a problem.
System Specs: XP SP2 1 Gig RAM, 90 Gig HD Pentium 4, 2.40 GHz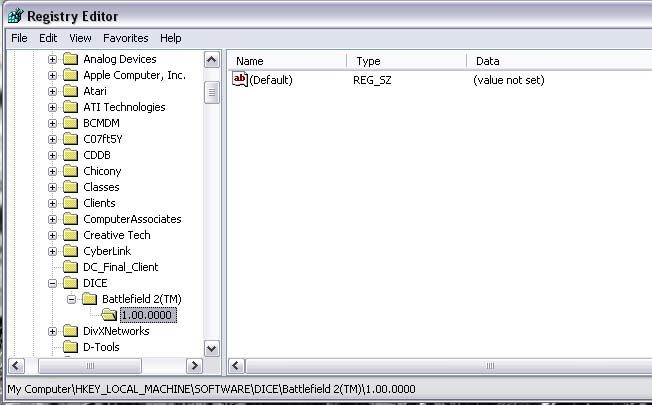 WTF I haven't played BF2 in weeks.... to put it in perspective, I re-installed BFV because of this.
Yes, I'm that desperate- BFV FFS.
---
#2
15 years ago
well you can obviously manage to edit your registry .. Delete the Registry containing BF2 and then manually delete any files associated with the game .... Then run the installer.
---
#3
15 years ago
So just delete the registry files and then everything related to it on the C drive?
I don't like messing with the registry too much considering how much doing the wrong thing can mess up everything else.
---
#4
15 years ago
well then you are like me .. i don't like doing it either. but as long as you don't delete anything else. You should be ok. Or you can use a program like registry scrub that does it for you. I am pretty sure ONE TIN SOLDIER or AK has posted the steps to clearing the entry from your registry .. Just do a search here about it.
---
#5
15 years ago
Thanks for that info, thats a great thread. My only problem now is this:
4) Now, go to the following Registry key, right-click on it and select 'Find', and search on the term... Battlefield. If you get a hit on 'Battlefield 2' then delete the registry key you got the hit on.

HKEY_LOCAL_MACHINE\SOFTWARE\Microsoft\Windows\CurrentVersion\Uninstall
My problem with it is that I didn't get "a hit," I got like 20 hits.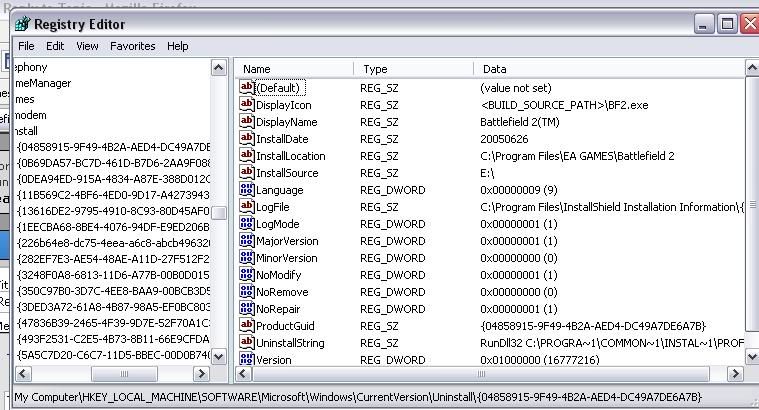 Which are safe to kill?
---
#6
15 years ago
yes if those have to do with BF2 in some small way .... Kill them. No other game should be cross referenced in the registry with BF2, it is it's own animal. And yes you have to MANUALLY delete the folders that are on Drive c. Once everything is gone. You should be able to reinstall without issue.
---
#7
15 years ago
EUREKA!!!!!!
You're my new BEST FRIEND!
Thank you SO MUCH for your help! I would never have been able to figure it out without you (and OneTinSoldier).
Now BFV can go back to the erthreal realm from whence it came.
:beer: Beer? Hell, I'd get you a distillery.
---
#8
15 years ago
Glad you got it figured out... The clan i belong to has a server. And if you like when we are on, stop by..... Website link in sig.. just click the name ... :D Have a blast .
---
#9
15 years ago
I actually played for like 5 minutes before it CTD'ed. I'll have to find out why.
My next question is wtf happened to my unlocks and how do I get them back?
---
#10
15 years ago
video card >? hmmm Ctd in five min .. cooling maybe ?
---