#1
13 years ago
pics Dwarf Axe Thrower
Dwarf Warrior
Goblin Swordsmen
Goblin Archer
Dwarf AxeThrower skinned
Gimli in armor
Gimli in armor ingame
hero statue
Goblins in-game: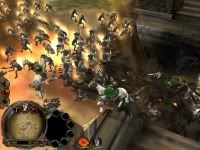 Cave Troll Darker Skin
Moria 2vs2map preview
---
#2
13 years ago
more Beorn skinned
figth in moria
figth in moria 2
dwarf axemen
Gloin i know his face is wierd in the pic but its better ingame!!
and i must mention the mod is still in the making we have been working on the mod/been open for 4days
---
19th August 2003
0 Uploads
#3
13 years ago
Nice looking mod you've got there, I've heard a little about this, but I wasn't sure if it was still alive. Good to see it is! :D
---
53,121 Posts
1,330 Threads
#4
13 years ago
Beorn is one of my favorite characters from the Hobbit, now all we need is the eagles.....
nice looking mod
---
~INGEN~
The Road Goes Ever On And On
50 XP
3rd September 2005
0 Uploads
#5
13 years ago
Nice mod, keep up the good work!
---
#6
13 years ago
thanks Nice looking mod you've got there, I've heard a little about this, but I wasn't sure if it was still alive. Good to see it is: well ur thinking of Battle In Moria wichb is different this mod has only been alive for 5days and started 5days ago weblink http://www.freewebs.com/hallsofmoria/
---
7th August 2004
0 Uploads
#7
13 years ago
I cant wait untill this one is done, looks good
---