#1
11 years ago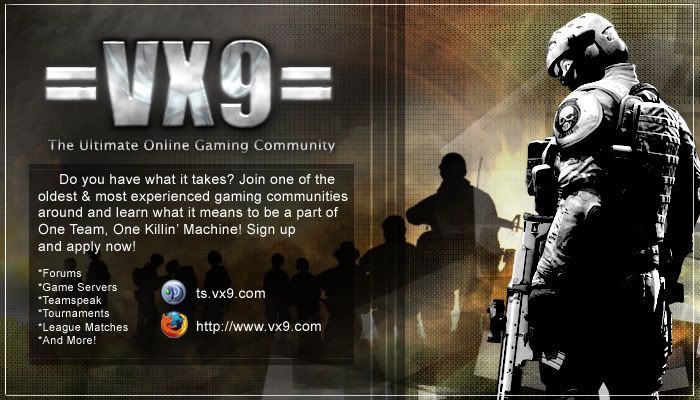 Mission statement:
Our mission in =VX9= is simple at its core. We strive to promote a great gaming environment for all that have the honor to be a part of our great community. Through the years we have been able to develop not only a great gaming experience but, also long lasting friendships. As we are more then just the games we play. We are at our center one big family. We believe that our community should be built on more then just games. We are held together by the bonds of friendship and the sense of belonging to one great online family!
Through the years we have excelled at many of the games we play. Through team work and dedication we are able to stay competitive. We continue to succeed in all avenues that we take as a community because of the great spirit of our members that make =VX9= what it is.
To the point!
=VX9= is looking for mature gamers to have fun, hangout, and to help replenish our ranks. We have an Army based ranking system, awards, forums, and plenty of other features. But don't take my word for it, come find out yourself! We require all members to go through a 2 week - 1 month recruitment process. We don't require much, but one thing that we love to see in our members is teamwork. So if you want to join, either send me an email or come by our forums or teamspeak and tell them Insert Name Here=VX9= sent you. Once you filled in your aplication, it will take anywhere from 12-24 hours to be accepted as a recruit. Possibly even sooner. You will be given more information at that time. So, Do you have what it takes?
Requirements: 18+ English speaking Teamspeak and working microphone Xfire
Other Information:
My email: [email]Abel@vx9.com[/email] Main Site: =VX9= Online Gaming Community
Recruiting forums:Recruitment Form Teamspeak: http://ts.vx9.com
Come check us out!
Lt.ABEL=VX9= Recruiting Officer. One Team! One Killing Machine!
---