#1
10 years ago
[COLOR=Red]EnterpriseKILLERS is recruiting![/COLOR] We are now accepting applications for dedicated players. We are looking for mature members with a sense of humor. We currently are running 3 servers full time. If you want to join the best clan out there, you must be active in our servers, be active on our website, and be willing to use Ventrilo to communicate. Trash talking visitors playing in our server is not acceptable.
If you want to check out our website, click here.
To fill out an application, post your answers to the questions below here. (or just go to our website and click on Join cod4) 1. What is your game name and your real name? 2. How old are you? 3. Where are you from? 4. What instant messenger do you have? 5. What other squads have you been on? 6. Did someone refer you to us? If so who? 7. How did you hear about EK? 8. Why do you want to join EK? 9. What server type do you play in the most? 10. What game type do you prefer the most?
For question 6, say Nocturnal.
I hope to see some new faces on our team! We are a very laid back and a fun bunch. We play the PC version of COD4 and BlackHawkDown. Our servers are located in the US.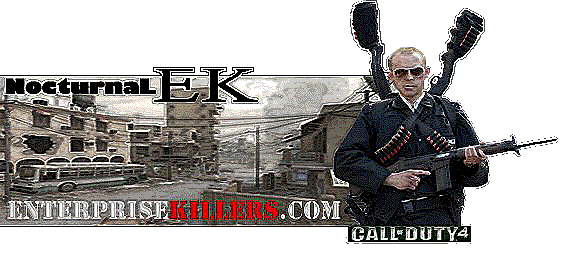 [COLOR=Red][EK]-Welcome to greatness [/COLOR]
---