#1
10 years ago
//enterthegame #warclan
[COLOR=black]
Clan History:
[/COLOR]
Kingpin: Life of Crime
(Jun '99)
Counter-Strike
(Nov '00)
Return to Castle Wolfenstein
(Nov '01)
Soldier of Fortune II: Double Helix
(May '02)
Unreal Tournament: 2004
(Mar '04)
Battlefield: Vietnam
(Mar '04)
Counter-Strike: Source
(Nov '04)
Battlefield 2
(Jun '05)
Battlefield 2142
(Oct '06)
Team Fortress 2
(Oct '07)
Call of Duty 4: Modern Warfare
(Nov '07)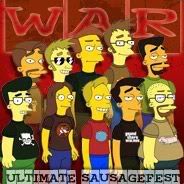 [COLOR=beige][COLOR=black]If you're interested in joining [WAR], you should know a few things about us. We don't want you to waste our time, and we don't want to waste yours. We're more about hanging out online and playing games together than we are about playing competitively. We've competed in CAL in the past and if we had enough interest, we could certainly do it again in the future. But [/COLOR][COLOR=black]first and foremost, it's all about having fun.[/COLOR] [COLOR=black]If that sounds good to you, read on. If not, go join some anal-retentive hacker clan.[/COLOR] [COLOR=black]What can you expect from us? We try to find games that interest the majority of active members in our clan, and we will play them tirelessly until something better/newer/more fun comes along. This means that we won't be playing cod4 until the end of time, so if you're not likely to check out new games in the future, we might not be the best fit for you.[/COLOR] [COLOR=black]We aren't going to be CS 1.6 noobies who are too busy pwning with their hax and 1337 skillz in some game that came out last millenium. We like to stay fairly current with the newest, hottest games. Sometimes that can be a bit stressful on the system hardware and (when you can't tolerate the slow loading times and poor performance anymore) the pocketbook.[/COLOR] [COLOR=black]If you can't afford to move on or don't want to move on, we won't hold that against you. If you want to branch out and play other games that the majority of the clan doesn't play, we won't hold that against you. Some of us may even join you. If you want to disappear and ignore us altogether, we WILL hold that against you.[/COLOR] [COLOR=black]People who have gotten to know our clan often remark about how we're a much closer-knit group of people than the average clan. We'll go dominate (or get pwned) in a server, but at the end of the day, we settle back into #warclan, our home base. It's here that we've gotten to know each other, and it's these bonds that have kept our clan alive for close to a decade.[/COLOR] [COLOR=black]We're a mature group of gamers which means we typically avoid recruiting people who aren't able to vote or drive a car legally. We've had too many bad experiences in the past. Although we are mature, our actions are often far from it, and if you don't think you can handle being picked on or made fun of in a light-hearted equal-opportunity manner, save your e-feelings the trouble and steer clear.[/COLOR] [COLOR=black]The best thing you can do to help your cause is to hang out with us as if you were already in the clan. The better we know you, the more likely (or unlikely) we are to recruit you.[/COLOR] [/COLOR][COLOR=black]So if you're an easy-going, free-spirited gamer who's looking for a group of like-minded guys to frag with in your spare time, drop us a note in the forum or start up your own recruitment thread announcing your intentions to the clan. Or if you just want to hang out, you're more than welcome to do that too. <3 -[WAR]clan [/COLOR]
---
#3
10 years ago
currently we are playing alot of tf2 and have heard the news of bf3, which we are looking forward to.
---
#5
10 years ago
just a note, the forums are getting moved. Mirc would be the best way, or the steam group and contacting anyone with the [WAR] tag.
---
#6
10 years ago
new forums are up. They work much better than the previous ones and we will be makin them look good. Stop by and say hi!
---
#7
10 years ago
can i join your clan. i play a lot of COD4 and my gamer tag is-astrawally
---
#8
10 years ago
hey make a post here: [COLOR=DarkRed]www.warclan.net/board[/COLOR][COLOR=Sienna][/COLOR] and introduce your self. Tell us how old you are, what you are looking for, any clan history, etc.
---