#1
10 years ago
Working on a new map. The defense of Frost and his paras at the Arnhem Bridge. I have used aerial photo´s and maps. Its my first map, so it will take a while :) But I am giving it a try. There were several maps of market garden. All far from any realism. Though there were some hills close to Arnhem, near the Bridge it was flat, with polders, levies and long stretches of farmland.
---
26th August 2007
0 Uploads
#2
10 years ago
Wow, epic. There's also a few Pro mappers working on historical versions too, but mostly those projects have either been shelved temporarily or simply haven't been heard from in some time. Considering the size of the bridge, did you consider only doing the town at one end of the bridge, or extracting the singleplayer campaign map and converting that?
---
#3
10 years ago
I have just started. Done the rough layout of streets and builded areas. I am considering part the Northside of the bridge with Frosts little perimeter blocking the northside of the Bridge, and than the South Side of the bridge, where you have the polders and the German 9th SS Panzer Reconnaissance Battalion . I am not using the singleplayer map. Though it was absolutely not a bad map, the single player started much later in the battle. I am going for day 1 of Frosts arival. I am trying to use the exact location of every house.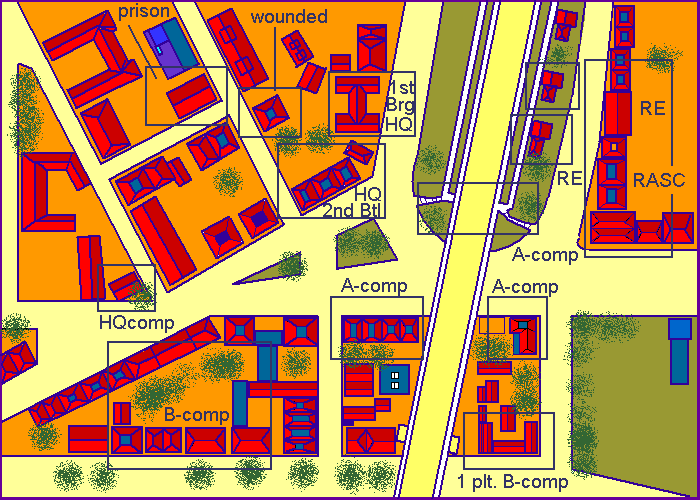 To the West it will go up to the bend of the Rhine just before the destroyed railwaybridge. There will be a German pontoon bridge. Though the Germans used a ferry on to the east of the Arnhem bridge and the German pontoon bridge was missing its center section, I am going to use this one as a crossing point for the Germans as well. I hope to get a fight where the Germans try to recapture the bridge from the south while the pressure builds up west of Frosts forces. Actually this should represent the german blocking force (9th SS Panzer Division) between Frost and Urquharts forces in Oosterbeek. This block saw strong fighting and a flow of incomming German forces on day 2.
Still a lot of work to do. Will cost me some weeks and testing ofcourse. I may need help later on.
---