Jeff
Advanced Member
I am a mean boss ⬆️⬆️⬇️⬇️⬅️➡️⬅️➡️??
184,643 XP
#1
13 years ago
Faking the Funk - (DX 10 Features in Windows XP) - MUST SEE
LennyRhysHi everyone,

I'm one of the few VERY happy people in the crysis community at the moment. I ran the game with everything high at 1680x1050 and it looks awesome, very playable, no lag.

C2D E6750 Gigabyte P35 DS4 2GB OCZ Platinum 800MHz Nvidia GF 8800GTX

All at stock

If you tweak the configuration files in \CVarGroups\ by copying and pasting the "very high" settings (1st paragraph) IN PLACE of the "high" settings (last paragraph) the game will load the highest possible settings even though the drop-down menus display "high."

The difference between "high" settings and the tweaked settings is immense: shadows are deeper, more realistic; the leaves have better reflective properties, better textures; the colors are better; and the level of detail is simply stunning.

With these settings I'm running the game between 15-25 FPS at 1440x900 and (wait for it) 8x AA, and it looks PERFECT. Best of all, this is in XP.

So I'm happy. I have XP and I'm playing the game at settings higher than DX9 allows (strictly speaking).

Give this a try if your rig can handle it.
It would probably only work for the demo as I'm sure this would be fixed.. but it would be interesting to see benchmarks from DX10 XP and DX10 Vista to see if there is any performance difference.
---
Product Manager | GameFront.com
#2
13 years ago
There are various sites out there that have benchmarks.....and surprisingly, its pretty much the same in XP and Vista
Crysis: DirectX 10 vs. DirectX 9 - Features at GameSpot
---
Sovereign002
Advanced Member
Adeptus Moderatus We purge with chain and bolter
105,915 XP
#3
13 years ago
At this moment Directx10 is not to its full capacity yet, which is normal as it is fairly (read: brand) new. You will pretty much need a powerhouse comp, but you can still play current x10 games on a x9 and on a Xp. with a little bit of tweaking here and there, of course.
---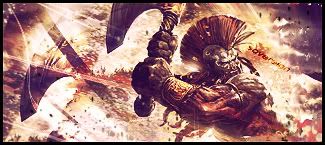 #4
13 years ago
If i recall, Object Motion blurring isn't possible in DX9, so its one of the few things that you can't get even with tweaks
---
7th December 2003
0 Uploads
#5
13 years ago
I tried that last week but for some reason it didn't look much better than the settings I used before, with exception for the water, which looks even better with this tweak. Renders the game unplayable on my old PC though.
---
#6
13 years ago
there barely is a difference between the two especially if you were in game you wouldnt notice the tiny enhancements dx10 offers, then again these are the first games with it so later on down the road they will get better
---
#7
13 years ago
I clearly saw the difference between DX9 and DX10 m8. Its huge. Trees fell down in a soft but fast way, and they bend. In DX9 they just crack and fall down, doesnt matter the sheers size. ALso the motion blur makes it damn realistic. Trust me, there's a huge difference.
---
#8
13 years ago
My brother got it in DX10 on XP, it lagged like a bitch though.
---
#9
13 years ago
You mean he got some DX10 type effects in DX9, since running on XP you cannot use DX10
---
#10
13 years ago
If you do any research on the matter, I challenge you to find any difference between the two versions. I've seen dozens of comparison screenshots and I can't ever tell the differences between high DX9 and high DX10. People say that there are improved cloud/sky/particle effects but that's not worth the big FPS hit you take by using Vista. As far as I'm concerned, DX9 Crysis looks just as good [and identical] to DX10 Crysis. Anyone else?
---