Sovereign002
VIP Member
Adeptus Moderatus We purge with chain and bolter
105,915 XP
#1
11 years ago
Well the thread title says it all. I'm currently playing with the Eldar, pretty good race, but they keep on yabbling in high girly voices.
---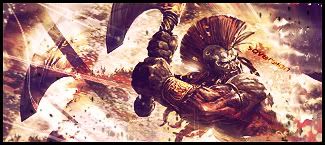 Ruley
The Resident Anime Addict
50 XP
10th December 2006
0 Uploads
#2
11 years ago
ASSASINATE - imperial guard (vindicare and HWT's ANIHALATE - necrons or sm - both v good when used rite :P
---
6th February 2007
0 Uploads
#3
11 years ago
Eldar !!!!! For it's transport gates !!!!!!
---
#4
11 years ago
Chaos, glorious chaos! It consumed me on the first meeting, even if stands no chance against space marines...
---
29th January 2007
0 Uploads
#5
11 years ago
when I find the time--rarely these times It's either Tau or eldar
---
#6
11 years ago
imperial guard all the way for hellhounds, basilisk, and baneblade.
to really fry the enemy
---
11th April 2007
0 Uploads
#7
11 years ago
the chaos for the fats heavy bolters in std start
and the both deamons of course
---
Sairus
Slightly cooler than a n00b
50 XP
6th January 2007
0 Uploads
#8
11 years ago
Space Marines. Since the day I got DoW. I'm planning to get away from them for a while.
---
10th November 2006
0 Uploads
#9
11 years ago
Ork's mainly due to the fact i love to watch melee battles and seeing body's strewn throughout the map. Or Necrons because there just badass.
---
Sovereign002
VIP Member
Adeptus Moderatus We purge with chain and bolter
105,915 XP
#10
11 years ago
The Necrons are cool, but I haven't seen any of their more powerfull craft. I'm beginning they don't have things like the 'avatar' of the Eldar. Then again I haven't been playing the game very long...
---