#1
16 years ago
i did not buy the game but my mood was brutaly savagly destroyed when u guys said the gore is weak... exuse me where are the guts?? the brains?? hello i was promised brains... limbs falling off, skull pieces... where?? :confused: :mad: im am very sad and im so mad that im just very mad ok?? id u are a lier.. u told me ur game is the most gory experience ever.. from what i hear from u guys it isnt.. im gonna cry.. in a few secs im gonna go buy doom 3 and when im back im gonna be even more mad.. anywaz here u post all u think about doom 3 gore ( this is different then the gore issues thread i made because this is a ,,whers the gore,, thread.. ) now i need someone to make a mod that gives actual gore... like they promised us..brains, guts, evrything.. limbs falling off ( zombies who are still alive with no limbs )
---
#2
16 years ago
Ive seen screenies of people shooting zombies brains out and stuff :confused:
---
#3
16 years ago
I think the gore is just fine. Think it's weak? Go play something else then.
---
#4
16 years ago
There will probably be mods to beef up the gore. I don't own the game yet so if there is a gore meter I'd say set it on high. Some games nowadays have a gore meter to adjust the gore.
---
#5
16 years ago
heres an idea.. i know from what u gusy said thers a skeleton inside each monster.. so heres a mod idea: when u shoot the monster somewhere the mea tflies off and u see the skeleton inside.. :naughty: is that possible?? if yes it would be great to see a zombie with no meat on his head only a skull run at u... if thats possible id be happy..
---
#6
16 years ago
You guys are sick if you think this game doesn't have enough gore....
---
#7
16 years ago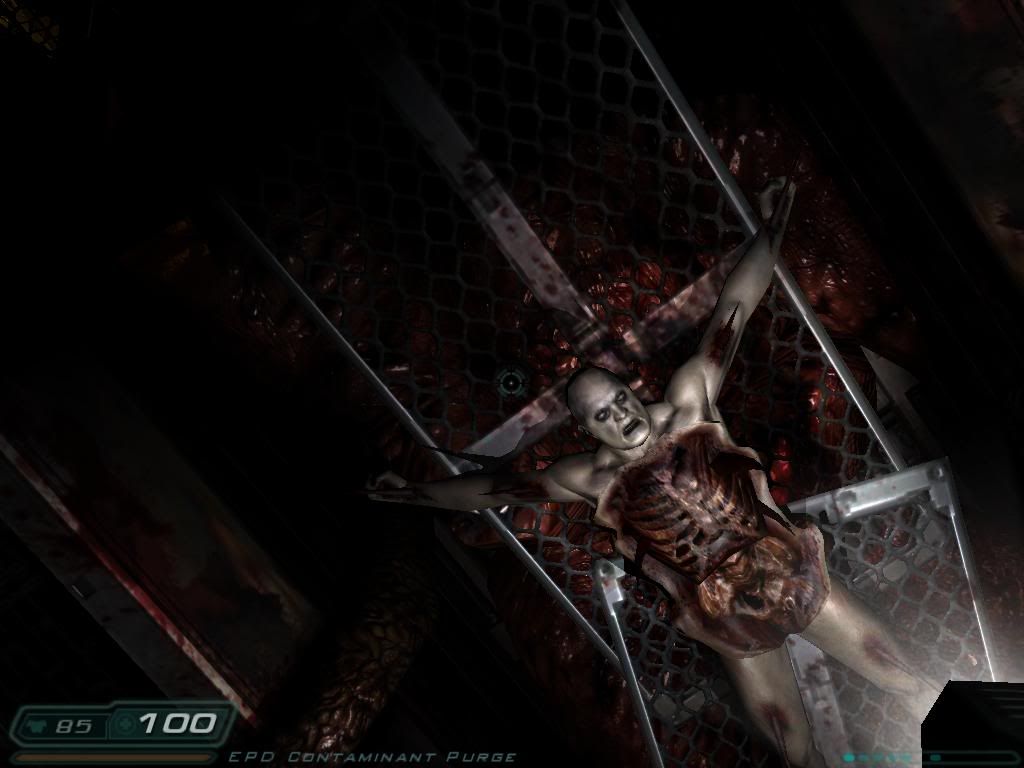 yeah geez, not much gore there:rolleyes:
---
#8
16 years ago
You are a dumb ass if you think that this game has completed gore. Id PROMISED us the goriest game. WHileit is a great game, I think that ID has failed to deliever on its promise and that I wasnt some of my 55 bucks back. The shocking lack of promised blood should drop 15 bucks off the price tag.
Dudes, there are even effing blood pools. Every game has blood pools nowadays. This game is incomplete. Thats the bottom line. The gore they did implement isnt even the est we have seen. Look at farcry, with the bump mapping you can literally look into an enemy's wounds. In DOOM3 all you get a red spots where you shoot a dude. That is extremely annoying. The only good points are the realistic blood spray and excellent looking blood spatters that hit the walls. Otherwise the gore is just alme.
---
#9
16 years ago
Nice picture there. It looks gory enough, and scary too.
---
#10
16 years ago
We arent talking about the innate scripted built-into-the-level gore. We are talking about the gore on actualy enemies. Looking at the buildin gore there is a lot. its just that the gore on enemies is very sad.
---