#1
14 years ago
[COLOR=black]The simpsons has been the longest running cartoon since the Flintsones. This isn't a pole.
VS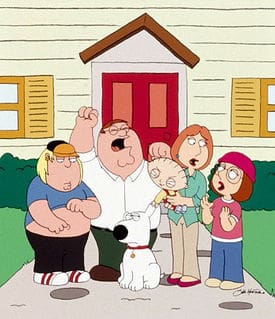 which one will win???[/COLOR]
---
#2
14 years ago
It Should Be a Pole! ( you spelt poll wrong, lololol) hmm... Family Guy is Funnier, But The Life lessons you learn from the Simpsons are good too, so it actually has a point. I think i like Simpsons better, but only by a bit.
---
27th April 2003
0 Uploads
#3
14 years ago
The Simpsons hands down, although roughly from seasons 1-9. I used to like Family Guy but than i realized that it was way too childish. There is no wit in the humor and jokes are recycled more than aluminum cans. There has been little to no character development throughout the seasons 4 or 5 season run. For example the character Meg exists merely as punching bag. The comedy is to based on 80s and 70s pop culture references which grows extremely tiring.
On to The Simpsons. I think seasons 1-9 will be endearing because not only they where funny but they where able to comment on many of the issues within American. The Simpsons, unlike Family Guy, have a better and bigger supporting cast that have all had memorable moments and phrases.
I might also add that my thoughts are this
The Simpsons 1-9> Futurama/ South Park> The Simpsons 9-present> Family Guy
---
#5
14 years ago
Agreed. The Simpsons is just better than Family Guy.
---
#6
14 years ago
Depends, if its early Simpsons, seasons prior to season 10, were classic, but around that time I just got bored watching it, got repetitive. If one would take Simpsons seasons aired since Family Guy first aired, Family Guy is superior. In any case, I'd take Futurama over both, why? Zoidberg; the inventor of the environment and Emperor of the Moon, Al Gore; and of course, the Big Z, the Velour Fog, Zap Brannigan.
---
25th November 2003
0 Uploads
#7
14 years ago
Family Guy is way better. The Simpsons used to be good, but i don't like the newer ones.
Futurama or South Park are usually funnier than either of them though.
---
#8
14 years ago
Family Guy the jokes may appear childish but are really clever
---
#9
14 years ago
2 + 2 = 5;3632985Family Guy the jokes may appear childish but are really clever
Family Guy is like Robot Chicken that tries to stitch together a story.
Nuff said.
---
#10
14 years ago
Ok yes if you like a story that actually develops then Simpson's hands down...but family guy is the show you can just watch and not care about anything that may have happened in any other episodes.
---