17th December 2005
0 Uploads
#1
14 years ago
My Oblivion in fucked up. I have been waiting for this game for to long. And now it's fucked up. Nothing to serious, it's just the graphics. THEY ARE BLURY AS HELL. I have a Radeon X300, I don't know if that's any good. I don't even know where to adjust the graphics. Whenever I look on the "Video" menu, I don't see any thing that says "Graphics Quality" I hardly play a game for the graphics. But for once, I wanted to be a like an immature 13-year old who only worries about the graphics. The company intends for it to have good graphics, and I want decent graphics. Seriously, it looks more like Morrowind than Oblivion. I went under "Options" at the startup menu, but I don't think anything has to do with my problem. Maybe "Antailiasing" but I don't know. Please help me.
Another problem I just realized. If I minimize the game, and go back into it, it's forzen. Anyone have that problem?
---
#2
14 years ago
X300 is not even on the supported gpu list. Sorry, dude.
---
24th October 2004
0 Uploads
#3
14 years ago
I didn't know that, that sucks big time for this poor guy. Perhaps you could have a deeper look in the options menu, looking for tabs that say 'advanced' and whatnot. If all else fails, try contacting Bethesda, see if they can help you.
---
17th December 2005
0 Uploads
#4
14 years ago
Sovereign002
Advanced Member
Adeptus Moderatus We purge with chain and bolter
105,915 XP
#5
14 years ago
I'm sorry m8, maybe you should buy a new video card, a lower GeForce isnt that expensive...
---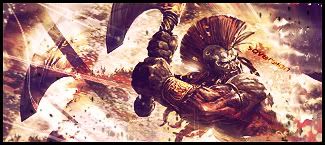 24th October 2004
0 Uploads
#6
14 years ago
Yeah, why not try a 6800 or something. Quite cheap and it will serve you better. If you have quite a bit of money but only an AGP system, try the 7800GS, it's what I've got and it runs things quite nicely. I have yet to test it with Oblivion though, hopefully I'll be able to if the bastard postman delivers it tomorrow!
---
#7
13 years ago
I've just got a gainward bliss 7800gs, and it's very fast, very quiet, and it plays all the games on my pc at maximum quality settings, it's overclocked with riva tuner to 560 core, and 700 mem. no artifacts or any other problems. far cry, doom, oblivion, etc, they all run smoothly with all options on at 1600 by 1200 res, I'd recommend this agp card to anyone. tally ho.
---
5th February 2006
0 Uploads
#8
13 years ago
Well its because you have radeon X300 the lowest that the game supports is the X600 so u might be able to play but like u said its fucked up
---
#9
11 years ago
My computer is having a weird problem with Oblivion when I travel to the Niben Bay Island for the quest the strange door their is no land only 3D exclamation marks does anyone know how to fix this???
---
#10
11 years ago
You haven't installed SI properly. Some meshes and/or textures haven't been installed to their correct paths.
---