16th December 2005
0 Uploads
#1
11 years ago
Chindits Operations, Burma, 1943.
The next installment in the Rising Thunder campaign is about to begin. For the next three weeks the Chindits Operations will be played in our tournament, starting of with the massive Operation Longcloth in which Orden Wingate lead 3000 troops into Burma to force the Japanese out.
Operation Longcloth-1943.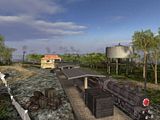 ---
#2
11 years ago
Amazing...it looks better than most FH maps. However you guys doing your forgotten battles had better switch immediately when FH2 comes out, or else...
---
#3
11 years ago
I actually read a book last summer on this whole deal. 'The Burma Road'. A damn good read. I hope you have the ability to cut off Japanese ears like the tribes would do in north burma :).
---
16th December 2005
0 Uploads
#4
11 years ago
Omg that's brutal!
Thanks Coca-Cola :D Yes ofcourse we will move to FH2 but it will take time, to create a tournament, mod, campaign and maps (20 maps) in these proportions is a very big project, and to be honest I dont see it happening before the second release of FH2, thats the time we need to prepare..
---
23rd March 2006
0 Uploads
#5
11 years ago
Here a nice ingame video on Youtube from the Oceania Tournament battle 2. :)
---