#1
13 years ago
The 130th Panzer Lehr is RECRUITING! There is a cry for Grenadier manner to man the machine guns and bayonet the Allies! The 130th IS Germany! We represent from 1914-1918 to 1939-1945. Germany needs land, and we need YOU to march accross Europe and restore Germany to her full glory! So join one of the MOST active and large Divisions today...the 130th Panzer Lehr Division- Grenadier Battalion, the backbone of the 130th! Teamwork begets Victory!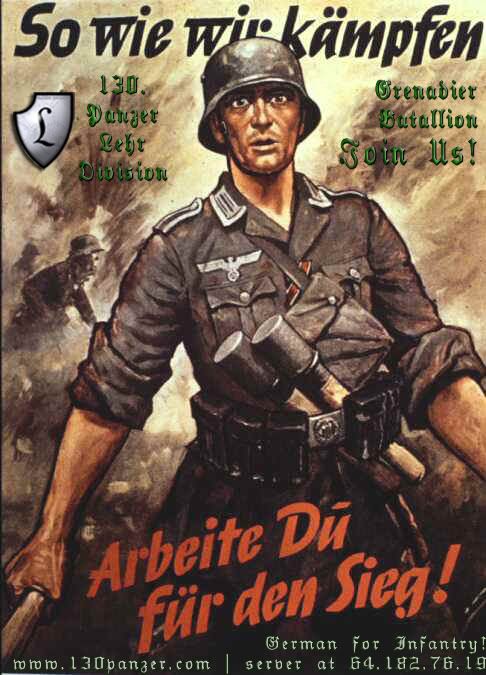 ---
11th March 2005
0 Uploads
#2
13 years ago
I can highly suggest this division meine herren.
---
25th April 2004
0 Uploads
#3
13 years ago
Arent you an US based clan? So you arent Germany...:'(
---
#4
13 years ago
most of us are from the US. our CO lives in detroit but we had one who lived in ireland. our members come from everywhere from australia to the netherlands to hong kong. and most of us speak at least a little german (3 or more are fluent).
---
29th April 2003
0 Uploads
#5
13 years ago
Not only Grenadiers need manner - each battalion from Luftwaffe to Panzer need YOU! Fill out our enlistment papers and join our elite soldiers in their battles against the red hordes and capitalist cronies!!
Von Luck
---
23rd February 2005
0 Uploads
#6
13 years ago
29th April 2005
0 Uploads
#7
13 years ago
Haha, you got a disadvantage in your clan: no germans in high ranks, we have one, me :P
---
21st October 2002
0 Uploads
#8
13 years ago
Erich I maybe coming back to 130th as Gärtner since Bf2 is BORING NOW!
---
#9
13 years ago
If anyone wants more information feel free to contact me on msn at [email]Pulsarbob@msn.com[/email]
---
29th April 2005
0 Uploads
#10
13 years ago
Im German, so the 21st IS germany :D, j/K the 130 is one of the best clans around!
---