#1
12 years ago
I have the vanilla BF2 login and mainscreen. The error says:
Failed to move "mods/bf2/shaders_client.zip" to "mods/bf2/shaders_client.zip-vanilla": The system cannot find the file specified.
How do I fix this? I tried to join an empty server to see what was wrong, but it said it was optimizing shaders and got stuck at 61% loaded.
A quick reply would be great, but I'm not really expecting it, since my other help topic still has yet to receive a response...
EDIT: Of course, I am using the fh2.exe. Windows XP SP2. What else do you need? Also, sorry for sounding bitter.
---
#2
12 years ago
Search for "shaders_client.zip-vanilla" and rename it to "shaders_client.zip" in *your bf2 folder*/mods/bf2/
---
#3
12 years ago
It's not there. Here's the folder I think your talking about:
Spoiler:
Show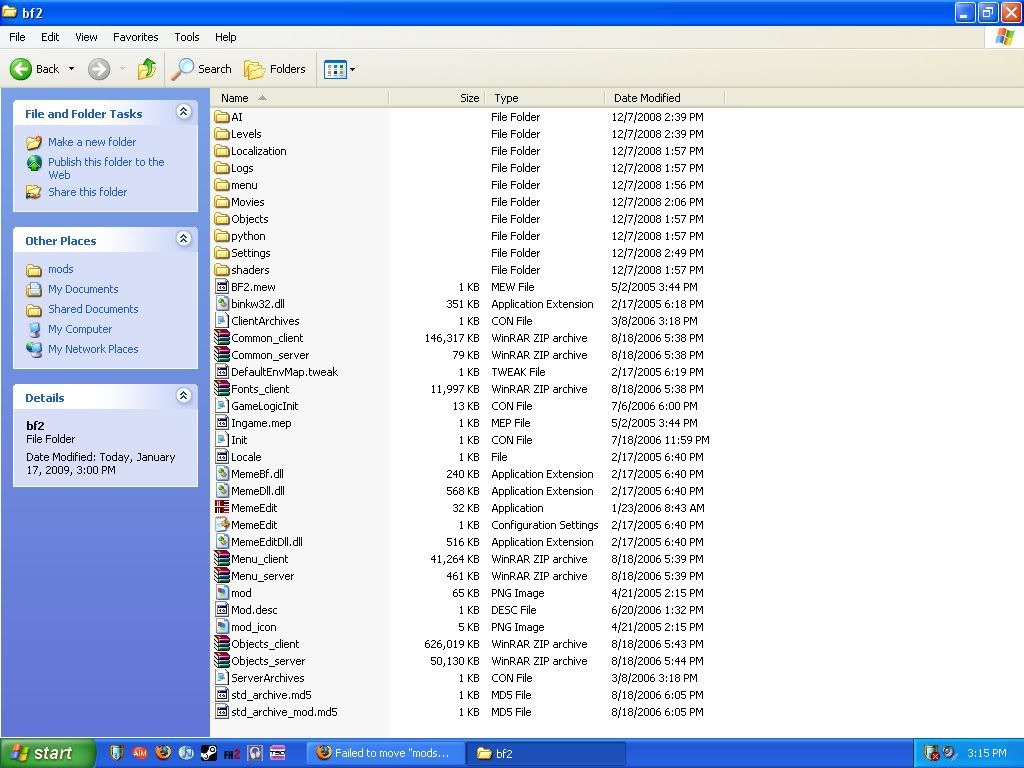 ---
#5
12 years ago
Thanks, I just put it right into the same folder?
---
#6
12 years ago
Yep. Also check if you have file named like that in /fh2/ folder. But don't put that file into fh2 folder, cause it's different one.
---
#7
12 years ago
Yea, I have fh2 one.
Thank you so much. I probably would have had to reinstall if you didn't help.
---
#8
12 years ago
Well, now I can at least load into a map, but now I have black and white Ironsights. Also, my FH2 toolbox doesn't work, so how do I clear the shader cache manually? Also, I'm now getting new errors. I'll post them in a second.
EDIT: Here's one:
Failed to move 'Battlefield 2/mods/bf2' to 'Battlefield/mods/bf2.tmp' : You may need to run fh2.exe as a higher-priviledge user: Access is denied.
Now I know that ain't right, because there is only one user on this PC, so it has to have full rights. Also, I thought that thing only happened on Vista? I'm on XP.
EDIT2: Another Error:
Failed to move 'Battlefield 2/mods/fh2' to 'Battlefield 2/mods/bf2' : Cannot create a file when that file already exists.
---
19th March 2008
0 Uploads
#9
12 years ago
Do you got PR installed? PR always gives me grey crosshairs.
---
#10
12 years ago
No. I don't have PR installed.
EDIT: By the way, I just realized what caused all this. When helping test new maps, if the map doesn't load, DO NOT HIT ALT+F4, no matter what other people say. All this happened after a new WAW map didn't load correctly and everyone in the TS channel said to hit ALT+F4. Ugh.
---