#1
10 years ago
So im working on the ship now. FUCKING HUGE!! Floating city is no exaduration. Well, floating skyscraper is a better term. When you are inside it feels more like a building than a ship, especially in the hanger bay. also, the navy has seen fit to put me up in a free apartment that doesnt suck. all the free electricity and hot water i can use!
---
#2
10 years ago
---
#3
10 years ago
Um, ok player...kinda spammy post.
Anyways, glad to hear it Kading! Make sure to grab some pics when you can for us, I'm sure we're all eager to see u at work:P
---
#4
10 years ago
Kading, sounds like you got yourself into a good one, good luck man.
NEWPORT NEWS, Va. – The Nimitz-class aircraft carrier USS Carl Vinson (CVN 70) received recognition June 10 for outstanding career counseling and sound professional development of Sailors which earned the ship a spot on the Commander, Naval Air Forces (CNAF) Honor Roll for Retention Excellence during the second quarter of fiscal-year 2008. The retention award is the second consecutive for the command this fiscal-year, as the "Gold Eagle" was also recognized during the last quarter tallies.
---
#5
10 years ago
unfortunately no photos allowed. it is considered espionage and i would be sent to Levenworth to make big rocks into small rocks.
---
20th March 2008
0 Uploads
#6
10 years ago
Good to know they take good care of you, even if I don't know you that well :p
---
#7
10 years ago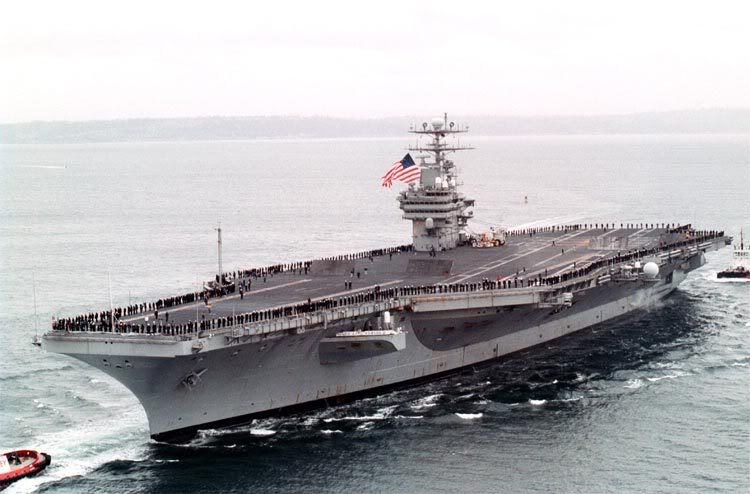 You're the guy with the goatee, next to the redhead, right?
---
#8
10 years ago
I seriously get the urge to just wipe all those men away with my hand, like they were matchsticks. no offense intended, it just looks inviting. just like domino pieces all lined up.
---
#9
10 years ago
I wonder how many people fall off during rough seas.
---
#10
10 years ago
Good to see you do well.
Hey, while you're there, what about recording some good naval-y sounds fro FH2! Do they still use bosun's pipes? Ooh, get some, "Now hear this...." over the PA! Maybe launch commands might be worked in-game (although I would think it would be tough to turn a jet blast into prop wash!). Catapult sounds?
---