#1
11 years ago
I got a quick snapshot of this before it.. (this may sound odd), disappeared. Dunno, maybe this sudden update wasn't finished and was accidentally posted as News. Thats for Lightning to explain. I hope I don't get in trouble for posting it :confused:.
Anyway, I did get a picture of it....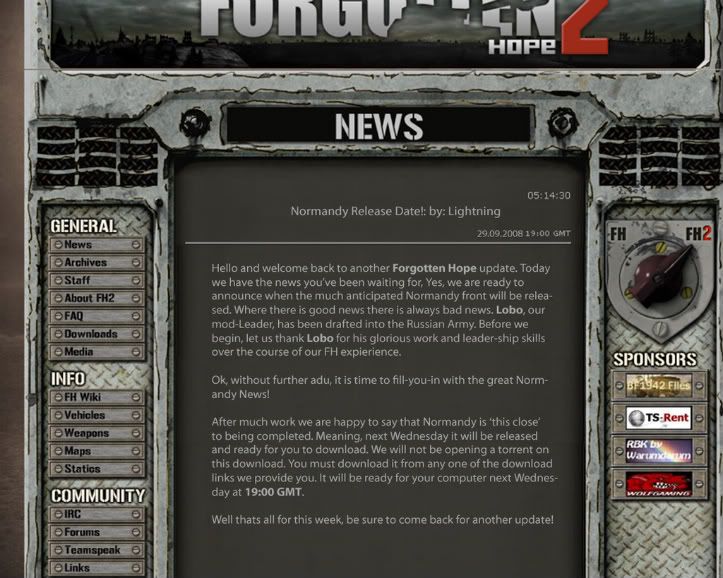 Yea, I don't know what to say or think of it. I'm glad to see, for some odd reason, Normandy is released soon. However, its sad that a fine Spanish man like Lobo is curiously being drafted into the Russian army...
Any thoughts?
:p I'm just kidding! (obviously fake). So I hope nothing bad happens to me. It's 2-am, and I'm bored. So, I decided to open up photoshop and have some fun. I can't have this fun on BGF forums so I turned to here.
Plus, you guys need a moral boost.
---
#2
11 years ago
You fucker!!!
Excuse my French, but you had my heart racing for a bit until I read the bottom part of your post.
---
11th March 2006
0 Uploads
#3
11 years ago
#4
11 years ago
How did it take u to the bottom of the post? It was rather obvious :P
---
#5
11 years ago
The font, larger letter type and lack of links to the forums or irc channel to discuss the update made it pretty obvious for me. :p
---
2nd January 2004
0 Uploads
#6
11 years ago
#7
11 years ago
Paul Newman thread scared me better.
---
#8
11 years ago
Lobo being drafted into the Russian Army? From Spain? Putin's getting desperate...
---
#9
11 years ago
I know lightning's writing when I see it. You didn't fool me for a second. Not only that, its not the same font as the mainpage.
---
#10
11 years ago
Seeing as I read this in the Farewell thread:
Sire_Apple;4602726I was really tempted right now to photoshop Fh2s homepage with an update announcing Lobo leaving.
just before reading this, it really didn't fool me =p
---