#1
13 years ago
Let's do a game, i start by showing a pic of a gun, and the person who answers correctly what weapon it is, gets to place a pic of a weapon or a vehicle, and so on. (ww2 only please) An easy one to get started:
http://members.shaw.ca/cronhelm/images/guns/StenMKI.jpg
---
31st January 2005
0 Uploads
#2
13 years ago
Make sure you change the name of the picture mate, can give away the game...:D
---
#3
13 years ago
Dang, you're right. If only i knew how.:bawl: Btw, pics of planes are welcome too.
---
6th December 2003
0 Uploads
#4
13 years ago
just upload the pic to another location.. photobucket or imageshack to name a few.
---
#5
13 years ago
Oh well, Sten Mk1.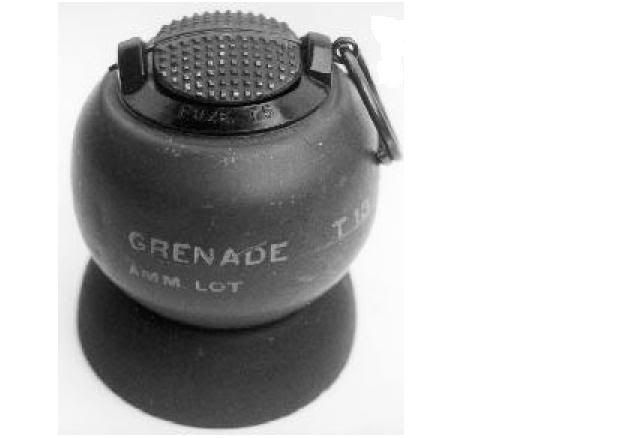 ---
#6
13 years ago
T13 "Beano" HE Grenade
Towards the end of WWII, this specialized hand grenade was developed for the OSS (Office of Strategic Services). Their requirements were for a baseball sized fragmentation grenade with an impact fuze. Nicknamed the "Beano", it has a smooth steel body (.04" wall thickness) with a diameter of just under three inches. In use, it is held with the safety cap under the fingers, the pin is pulled and the grenade thrown. The grenade arms as it travels through the air. It had a 20 meter effective radius.
My turn.
---
#7
13 years ago
Japanese jet-stream balloon designed to bomb North American forests and cause panic.
---
#8
13 years ago
Japanese jet-stream balloon designed to attack North America
Ooh this one is tough
---
#9
13 years ago
The Tank, Cruiser, Mk V, Covenanter (A13 Mk III) was a British Cruiser tank of the Second World War named for the Covenanters, a Scottish religious faction in the British Isles at the time of the Wars of the Three Kingdoms. Covenanter was the first cruiser tank design to be given a name.
---
#10
13 years ago
A-13? Dam you Beavis! :-P
Is that a bat bomb by any chance?
---