28th August 2006
0 Uploads
#1
10 years ago
I'm looking for a simulator, preferably a tank simulator as my joystick does not like me, that will run well on this piece of junk. I need something to occupy myself with until I am able to get my new machine and play FH2 again
This crappy laptop has:
Intel Celeron M 1.5 ghz cpu 1 GB of Ram And a really crappy, and extremely long named Intel onboard piece of crap GPU.
Any ideas?
---
#2
10 years ago
I recommend the Escape Velocity series (not exactly a simulator...more like, science fiction RPG-Lite...but I guarantee you'll like it) or Navyfield (naval combat game). Escape Velocity Nova - Wikipedia, the free encyclopedia NAVYFIELD Community Site EV Nova requires you to pay after 30 days, but that might be enough time to get your new computer running. Navyfield is free, though you can pay and get a bonus on XP. Oh yeah, and EVN is singleplayer, Navyfield is almost exclusively multiplayer. Unfortunately I don't know of any good tank simulators...At all. I'd like to hear a few too.
---
4th November 2003
0 Uploads
#3
10 years ago
Here are a few tank sims I've found so far.
Panzer Elite seems like a very good bet for you: Hardware Requirements
Pentium 166 MMX; 32 MB Ram; Direct X
Then there's Steel Beasts which features the M1A1 and the Leopard 2A4. Armored Fist 1-3 pretty much are just about the Abrams.
All of these games seem fairly "old" in the computer gaming sense so you could probably easily run most of them then the rest is up to your own personal preference.
Hmm Steel Fury looks pretty good too. I might pick this one up.
---
24th October 2006
0 Uploads
#4
10 years ago
Try 'WWII Battle Tanks: T34 vs Tiger' It's quite fun (although short), but really brings down the fealing of sitting in those tanks at the time. You have them fully simulated and everything else. :)
The Hardware req are:
Microsoft Windows XP / Windows Vista ®
CPU 3.0 GHz
Approx. 2 Gb available on hard disk
512 MB RAM
nVidea GeForce 6600 or ATI Radeon 9600 (128 MB)
DVD-ROM
DirectX version 9.0c
DirectX® 9.0 compatible sound card
-------------------- Edit: ---------------------- Ok it might not run on your laptop. Sorry.
---
#5
10 years ago
Panzer Commander.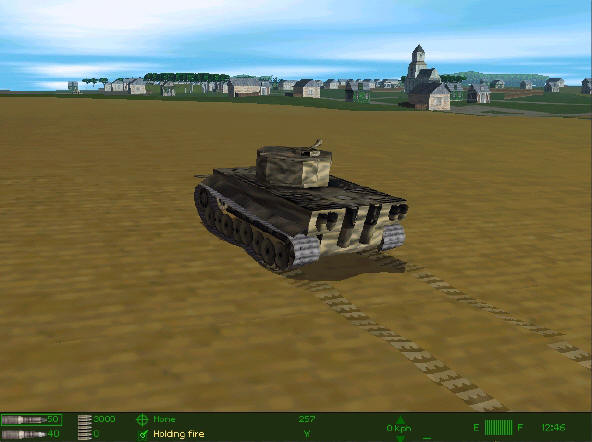 :lol:
---
28th August 2006
0 Uploads
#7
10 years ago
Hearts Of Iron 2...gah kill me now, that game was so confusing, I couldn't even build a tank!
---
3rd January 2009
0 Uploads
#8
10 years ago
There's an old one that you guys have probably never heard of, but I still play because its still fun, called Forgotten Hope. Its a mod for Bf 1942, and I think it was in version 0.7 last time I checked. Great community, lots of maps. All the jerks and other unwanted characters left to go play FH2, but the best people are still left. I run it on 1.8 ghz and 1 gig of ram at the highest settings, so you should be good.
---