#1
10 years ago
Yes sir, you can make custom gun using parts of other guns, like a mix between a MP5 and a G36, who knows.
Enjoy and post your weapons!
this is what i've made.
---
#2
10 years ago
Heh, pretty neat. When you can get that delivered to your door, let me know. ;)
---
#3
10 years ago
Perfection.
---
22nd March 2005
0 Uploads
#4
10 years ago
#5
10 years ago
Crazy Wolf;4952447What, no FAL?
I'm weak on FAL, and weaker on Fabrique Nationale;s other offerings. Do they even still make the FAL?
Spoiler:
Show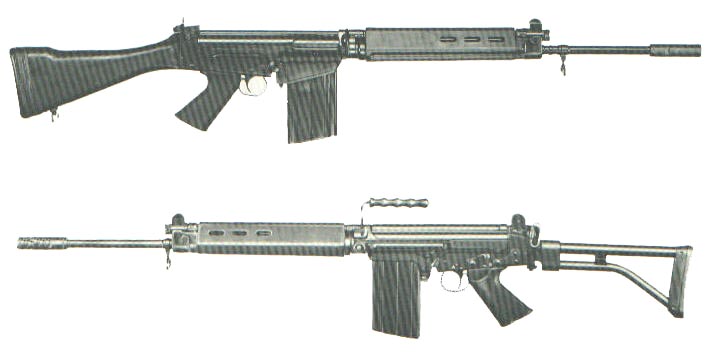 Is FN still around? Seems like the FAL was the "African AK-47" for a couple of decades before China, Russia and Cuba flooded the dark continent with the ubiquitous Soviet assault rifle. Was the FAL so widespread in the 60's and into the 70's because of the Belgian angle?
---
20th March 2008
0 Uploads
#6
10 years ago
I think the FAL was so widespread because alot of Western armies where armed with it during the 50's/60's and in the 60's/70's/80's they got all rid of them and then they end up on the black arms market.
---
#7
10 years ago
The FAL was used by the British Army as the SLR (Self-Loading Rifle) from 1960 (I think) until 1985. As a result most decolonisation operations resulted in the armies of the new states and the British troops leaving Africa having hoardes of SLRs/FN FALs lying around.
A fine gun, and one of only two 'Battle Rifles' to be used in military service - the other being the G3.
---
#8
10 years ago
the Fal is currently the Main weapon of the Argentinian Army. Beign replaced slowly by the Stur if i remember..
---
22nd March 2005
0 Uploads
#9
10 years ago
So, if I go to Argentina, I could get a milsurp FAL that's been kept in good working order? Sweet!
---