#1
10 years ago
and stylie... I gotta disagree with one thing... Michelle is not very attractive, nice body, but the face could wake me up at night. Thats how I know its all BS, stop kissing ass cmon with that.
Spoiler:
Show
She is nasty. I am sure she is a nice lady and all, but come on with that. Laura Bush was better looking to me... We should only hope to be as old as John McCain and have a lady as hot as Cindy... But I digress, the points about the media were spot-on. Bronstein at Large : Love or lust, Obama and the fawning press need to get a room
---
#2
10 years ago
Man, I need some new bait...
---
9th December 2003
0 Uploads
#3
10 years ago
Who says she is good looking? I'd have to disagree.
Now Kenndy's wife as she loked back in the day, I'd hit that. :naughty:
---
#4
10 years ago
Maybe you'd do better with this pic:
Spoiler:
Show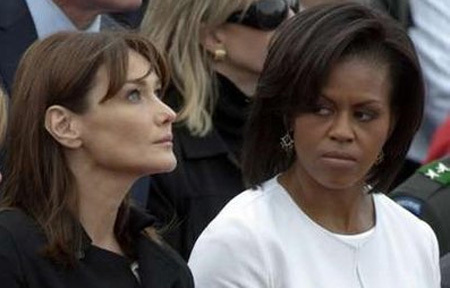 At least the snark quotient is higher, and the opportunities for captions which include the word "bitch" are endless.
As to the article, it should go without saying I agree. Hell, I'm the one endlessly wailing in the wilderness about it. Those unfortunate allegorical tumbleweeds blowing in the virtual streets of this thread likely have nothing to do with the virtue and post-worthiness of your thread. It is strong.
But you may have noticed the increased incidence of major strikes by Force jumjum, along with a deepening intensity of individual strikes. It is no accident, no isolated incident. I can now unveil that indeed JKW (jumjum Oberkommando Windows, or my internet high command) has been engaged in a Spring Offensive, codenamed "Rolling Chimp". It has been a maximum effort to concentrate on strategic, not tactical targets. Such optimal-value missions are not always available, but great efforts have been taken to hit targets of at least operational level if strategic targets are unavailable or too well protected. Then we hammer them relentlessly until local superiority is achieved.
Intelligence product by our highly reliable military intel units indicates we may have succeeded: a significant spike in Blue casualties, and a strong downward trend in their morale. The reluctance to take the field, the minimal resistance - it appears they are at least withdrawing to lick their wounds until they can replace casualties. The trick for us is to hit them in their sanctuaries. We'll see what the planners have in store.
This could be it, styles. It has nothing to do with your production - it is worthy. Instead, we just may have broken their will to engage!
(Something tells me I just made a really big mistake.)
---
#5
10 years ago
Quickly edit your post to use something online or I'll tell the world you named your PC "bozo"!!!
---
#6
10 years ago
Heh. In the midst as you posted. Whew, thanks. We wouldn't want that to get out, now would we?....Hey...are we on speaker phone?
---