#1
14 years ago
So, to continue my pictorials from various WW2 related locations, here is my next thread:
Flying Legends 2004
Duxford, UK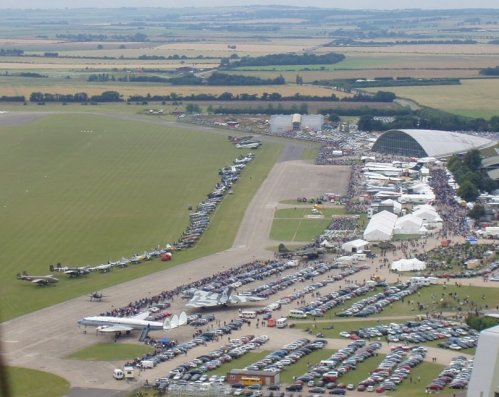 The Flying Legends airshow is widely known as the Mecca for flying warbird enthusiasts, and is held annually in the month of July. I've been lucky and visited it twice (in 2004 and 2005), and I will gladly share my experience with you guys.
As said, the airshow is held on a former airbase named Duxford, a hour or so north of London. It was an active airbase during the war, first housing Douglas Baders Wing, and later various US P-51 squadrons. The airbase have to airstrips, one paved and one unpaved. Its a great feeling seeing a mass of P-51 or Spitfires taking off in a loose formation along the grassline, I can tell you that!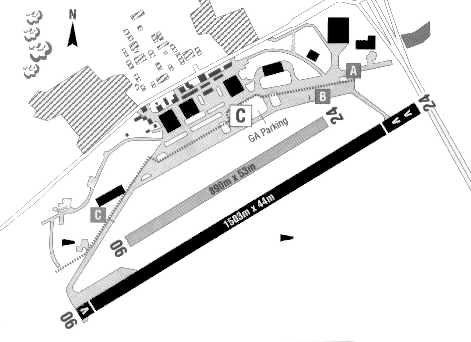 Now adays it "only" houses a huge permanent display by the Imperial War Museum, which consists of six hangars, along with the American Air Museum in Britain, and a army exhibition called the "Land Hall".
Now, to the pics. I will try to show various pics of various airframes, but if you want to see more of any particular airframs, just ask. Afterall, I took 400 pics (along with 300 by my father), so chances are I took several of each plane!
I will start with the static display:
Two B-25s visited the airshow, one B-25J and one B-25D:
The 'Juliett', B-25J 'Sarinah' was painted in colors from the Netherlands East Indies Air Force 18 Sqd. as N5-149.
While the 'Delta', B-25D 'Grumpy' (43-3318) painted in its orginal 'invasion' suit used by the RCAF as KL161.
The reenactors were in place, but I'm note too sure on the sunglasses on the airborne soldier to the right...
Another view of the B-25D, showing fancy indian used as a logo for the current operateor of the B-25D, "The Fighter Collection".
A violin player made a nice performance from the right wing of the 'Juliett'.
Reenactors performing as USAF fighter pilots (I belive). Too bad the people flying those machines today uses a more modern outfit.
A P-47D-40 painted with invasion stripes as the private mount of Lt.Col. Ben Mayo of the 82nd Fighter Squadron 'No Guts no Glory!', posing with another couple of reenactors.
A P-51D painted as part of the 352nd Fighter Group, the "Blue Nosed Bastards of Bodney." Note the 9 Swastikas indicating that this was the mount of an ace, and then some more!
Two more P-51Ds made their apperance, the P-51D-20NA "Big Beatiful Doll" (44-84634) on the left, and the P-51D-25NA "Feriocious Frankie" (44-73149) on the right.
Here you can see alot of planes along the static display line. In the forground is an P-51D, followed by an P-40M, a P-39D and a Hurricane Mk IV painted in desert camo.
P-39Q 'Brooklyn Bum-2nd' (42-19993) operated by 87th Tactical Reconnaissance Squadron and flown by a pilot named Lt. Peter McDermott.
Hurricane Mk IV (KZ321) painted in desert camo as N-JV.
Closeup of the 37mm gun mounted in the P-39Q.
P-40M 'Warhawk' in US Army Air Force colors.
A total of 7 Spitfires of various variants were present there.
Reenactors posing as Polish Air Force pilots infront of a Spitfire from the famous Polish 303 Sqd.
TO BE CONTINUE! :naughty:
---
#2
14 years ago
Very nice, i should go there someday. Thx for sharing
---
#3
14 years ago
CONTINUED:
Shot showing much of the flightline. Note the midget planespotter!
Reenactors dressed as British groundcrew with womans and one pilot infront of a recon-Spit.
This Bücker Bü 133 'Jungmeister' were one of the few Luftwaffe warbirds to attend.
Another Luftwaffe warbird present there was the for-runner to the famous '109, the Bf 108 'Taifun'.
One of the more exotic birds there was this I-15, packed in crates and shipped to the UK just to attend Flying Legends.
And then you have my favourite plane of the day: The Gloster Gladiator painted in Norwegian Army Air Force colors! A funfact about this plane is that its painted as two different aircrafts, '423' on one side, and '427' on the other.
Two Corsairs were there. I can't remember what the one to the left is, other than its painted in USN colors. The one to the right is a Fleet Air Arm Corsair '130', belonging to the 1850 Squadron.
Another rarity was this interwar-years RAF plane. I'm not too sure, but I belive its an Hawker Hart.
Here is another cat, a F8F Bearcat. Altough I belive it never saw World War 2 service, its still a nice warbird.
Again, I'm not sure, but I belive this is a Hawker Sea Fury in Canadian service.
Another couple of 'cats'. The one to the left is a F4F Wilcat, but since its in British markings, its a Martlet. The one to the right is a USN Hellcat.
The last cat that was there. A USMC F7F 'Tigercat'.
This could almost pass as an regular Avenger, but is infact an TBM-3Q 'Avenger' modified for ECM missions.
I belive this is an Lockheed Electra, but I'm not sure.
C-47 Dakota/Skytrain (ZA947) in RAF markings.
The last Luftwaffe warbird present was this Junkers Ju 52 in Lufthansa markings as D-AQUI.
Next up is the flying display... :D
---
#4
14 years ago
Very nice dude, btw....
Spoiler:
Show
YOU ARE A LUCKY BASTARD!!!
:P
---
29th December 2004
0 Uploads
#5
14 years ago
OMG OMG OMG!!!!!!!!!!!!!!! I HATE YOU! REALY THATS JUST TO COOL! That dutch B25 bomber i have seen so many times flying in formation with a dutch spitfire. Some planes i didnt know that they wher stil flying (F6F Martlet) And the first hawker huricanne i saw in desert camo. You have a pic of that B17?? tanx for sharing mate, Greets Jasper
---
7th December 2003
0 Uploads
#6
14 years ago
Nice pictures! Can you upload a couple of in-flight pictures as well?
---
#7
14 years ago
The Electra is such a beautiful aircraft. Nice photos!
---
#8
14 years ago
I almost forgot these static pictures! :eek:
B-17F 'Sally-B' parked on static:
I'm sorry Invincible,but I'm still searching for pics on my HDD after 'Pink Lady'.
Preperation for the flying display...
B-17F 'Sally-B' taxies past the crowd along with the P-47D. Without the crowd, this could pass as a scene from 1944! :p
The Martlet prepares for the final turn on the grass runway.
With the Hellcat not far behind.
And last, but not least, the Tigercat. Note that this big bird has to use the concrete runway, and not the grass.
Hawker Hurricane Mk IV:
Good ol' Tante-Ju' prepares to stretch her legs!
The two Jüngmeisters prepares for an formation take-off.
The four P-51 Mustangs starts up their engines almost simultaniously. I'll never forget that sound...
The Spitfire PR. IX and a Sea Hurricane painted in Battle of Britain night camo taxies out in formation.
The oldstyle I-15 were also up in the air.
As were this 'early'-Mk'ed Spitfire (sorry for the blurrynes)
And this Spit!
You'll get the planes airborne tomorrow, I'm too tired to upload any more pics...
Cheers! :beer:
---
29th December 2004
0 Uploads
#9
14 years ago
I love you (+r photos!)
Thats really cool mate! all thoes spits and mustangs!
---
#10
14 years ago
Yeah. I would recomend all of you who live relativly close to the UK to make a visit to the Flying Legends airshow. Me and my father spent two weeks in the UK visiting this FL airshow, along with the huge (but modern aviation) Royal Internation Air Tattoo. And between these airshow, we paid a visit to like 12 War Museums, including Imperial War Museum, the HMS Belfast and the Royal Air Force museum. And we did this both in 2004 and 2005! :p
Even if you're only on a weekend trip to London, you can see ALOT of WW2-related exhibitions.
---