#1
10 years ago
Since the Euro 2008 is on full speed now I would like to show the things I like the most about these tournaments. Yes, the national pride. Every country has it and I think it's awesome, we must all be proud of our own nation and try to make all other nations look stupid and pathetic. Because I'm a Dutchy and a loyal supporter of our team I would like to start showing some 'Orange Madness' but feel free to post your own nation's madness because I love them all :lol: Let's start with the Orange Legion, a group of crazy Dutchies dressed in orange. This video shows how to drive them crazy: And this one shows Dutchies invading Germany :p Once again I'll ask you to post your nations own madness and ofcourse have fun! Thank you.
---
20th October 2007
0 Uploads
#2
10 years ago
Wideeeeeeeescreen madness!!! Spoilers are for englishmen (and those might not post here anyway, wahaha!)
Spoiler:
Show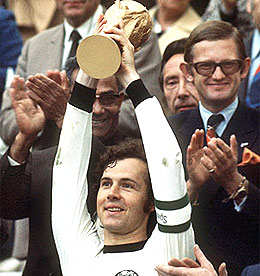 ---
#3
10 years ago
Swedes in Berlin 2006, right before the match agains Paraguay where Fredrik Ljungberg scored the only goal in the 89th minute. Afterwards there was more chaos and much more people.
after the paraguay game, in the subway
and now something a bit different, a football derby between AIK and Hammarby IF, here the fans from AIK is trying to storm the field after Hammarby scored a goal.
And now AIK's football firm, the "fanclub" who fights against the other clubs fans.
---
#4
10 years ago
Mmmm I love Swedish girls :)
---
20th October 2007
0 Uploads
#5
10 years ago
I can stand it, I forgot the two most important things:
YouTube - Die Manschafft WM 1974-Fußball ist unser Leben
Spoiler:
Show
---
#7
10 years ago
Swedish still better. As long as Germany won't give my grandfather his bicycle back the German girls are crap! Just found this commercial on Youtube: http://uk.youtube.com/watch?v=T2SjREauO4Q&NR=1
---
17th August 2006
0 Uploads
#9
10 years ago
I am not proud about my country (Belgium), it is an artificial country with 2 different kinds of people who has almost nothing incomin.
I am however proud about the people wether it be Walloons or Flemish
---
20th October 2007
0 Uploads
#10
10 years ago
I knew it! Shouldn't have posted in your thread!
" Last edited by Admiral Donutz : 7 Minutes Ago at 04:01 AM. Reason: [spoiler] tags added" I was really tending to ask my great grandfather to give you that screwing bicycle back, but now you dutch screw up!
---