#2601
11 years ago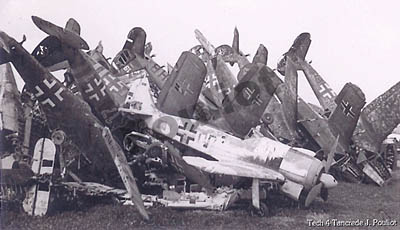 Luftwaffe debris: wrecked German fighter aircraft.

Photos from T/4 Tancrede J. Pouliot, 503rd Ordnance Company [SIZE=-1]The following photographs were contributed from the World War II photo album of T/4 Tancrede J. Pouliot of 503rd Ordnance Company. All photos are displayed by permission. Photo copyright belongs to the original owner. [/SIZE] [SIZE=-1]If you have any information on T/4 Tancrede J. Pouliot and his service in the 503rd Ordnance Company, please contact the photographs' owner: jeanbarb@verizon.net. [/SIZE]
---
#2602
11 years ago
sheik, thanks for the resurrection. vMudra, the soldat with PTSD is stunning. Truly the one picture that is better than a thousand words at describing what "combat fatigue" is.
---
#2603
11 years ago
Agreed Jum, It's not like the Germans got many chances to receive sufficient rest and relaxation (furlough) so they may regain an ounce of their soul. Please correct me if I am wrong but wasn't the Atlantikwall used to help 'reset' those men. Were they ever allowed to go home? I know in the case of my friend who was in Burma (imperial) that it was 6 years before he ever saw home and most certainly in the case of my Yugoslavian step-grandfather that he never did get to go home (after being released by the Finns, he moved to Canada and never saw his homeland again).
---
#2604
11 years ago
Yeah, they got leave, but it was a lot less common then allied nations. MOre like 2 times a year instead of 4-5. Also, for german fighter pilots, unlike western allied ones that rotated out after a tour, german fought till death. capture, being too heavily wounded to fly, or the end of the war. Its part of the reason for their high victory rates.
What one could expect though, if winning the Knights cross, was the chance to be posted to a Lehrlings unit back home, and end up teaching the new guys for awhile before being rotated back into circulation. The reason the Panzer Lehr division was elite was because, with nearly all its officers, squad leaders, and such coming from Lehrlings battalions, it was heavy with knights cross and experienced commanders. Unfortunetly, when it was completly destroyed by the carpet bombing proceding Op Cobra, the germans then lost their best troops in one fell swoop.
---
#2605
11 years ago
The guys (pilots and air crew of RAF and RCAF) that I know who are still around didn't get any leave from their airbases in old blighty. Time off was when you were sleeping or when you got shot down and survived to be captured. From the men I know who served, the only time off was when they were rotated out of an operation and then into exercise training and work up for their next mission. (so not exactly leisure time) ex: The 72 Seaforths of Canada were deployed as Home Guard and for garrison training until Operation Husky. Following the successes of the Italian campaign, the men were returned to England for work up and training on new equipment until they were deemed fit for deployment on the Northwestern European campaign (Scheldt, etc.) So, Germans did get to see home every once in a while but not for very long it would appear. From outside appearances, it would seem their training regime was unsuitable for a sustained knowledge transfer of battle hardened skills. I guess it really depended on where you were and whether or not you were a colonial.
---
#2606
11 years ago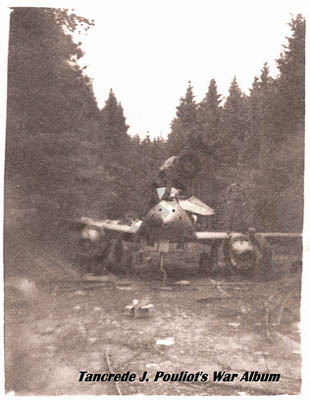 A photograph of Luftwaffe ME-262. The original notation on the back reads "German Jet Plane, May, 1945."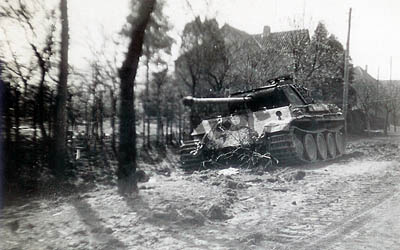 Photos from T/4 Tancrede J. Pouliot, 503rd Ordnance Company[SIZE=-1]A German Panther Ausf G tank in Normandy, according to the original caption.[/SIZE]
Keeping this thread alive because Warum-darum never accepts my pictures. The picture of the 262 in particular, is a neat one in my opinion. Maybe you know Muddy, but was the 262 a field expedient aircraft?
---
#2607
11 years ago
[INDENT]20 April 1941[/INDENT]MAKER: [INDENT]Taylor (Lt) War Office official photographer[/INDENT] OBJECT TYPE: [INDENT]Official photograph[/INDENT] FORMAT DESCRIPTION: [INDENT]Official photograph[/INDENT] DESCRIPTION: [INDENT]Men of the 7th Battalion, Seaforth Highlanders, on guard duty on clifftops near Lerwick in the Shetland Islands, 20 April 1941. (It might look a little chilly but believe me when I say that 10 pounds of wool wrapped around your mid-riff does the trick and keeps you toasty) [/INDENT]
---
#2608
11 years ago
[INDENT]6 June1944[/INDENT]MAKER: [INDENT]Evans, J L (Capt) No 5 Army Film & Photographic Unit[/INDENT] OBJECT TYPE: [INDENT]Official photograph[/INDENT] FORMAT DESCRIPTION: [INDENT]Official photograph[/INDENT] DESCRIPTION: [INDENT]The British 2nd Army: Commandos of 1st Special Service Brigade landing from an LCI(S) (Landing Craft Infantry Small) on 'Queen Red' Beach, SWORD Area, at la Breche, at approximately 8.40 am, 6 June. The brigade commander, Brigadier the Lord Lovat DSO MC, can be seen striding through the water to the right of the column of men. The figure nearest the camera on the right is the brigade's bagpiper, Piper Bill Millin. (When my Pipe band plays for the veterans, it never ceases to amaze me how enthusiastic the crowd can be to hear a "wee tune". It takes balls of tungsten to go into battle with a sheepskin bag and some wooden drones instead of a rifle.) [/INDENT]
---
#2609
11 years ago
Er'body seen that one Shiekyerbouti. It's on the cover of The Longest Day!
---
#2610
11 years ago
I don't believe that I have ever seen the cover of "the longest day", it's a fun movie to watch though.
---