#21
13 years ago
snotvod;3695032That's soem nice stuff you got. :) That no5 jungle carbine, does it really kick that hard ?
Yeah. It kicks like a beast. Pretty much the only gun I own that has significant recoil. Way back in the 60s my dad almost broke his collar bone the first time he shot it.
Also, here's an old gif of me going wild with the carbine. I was shooting much much faster, but the gif slowed it down.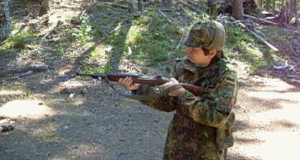 I also have videos of me shooting the ak47, no4, and taurus (got 15 rounds off in.. 4 seconds or so if I recall).
---
20th August 2006
0 Uploads
#23
13 years ago
Fuzzy Bunny;3694021*sigh*

You owe me a clip of Full Metal Jacket's Gunnery Sergeant
Gunny, huh? I just so happen to have bumped into him about 30 minutes away from where i live. Got a picture too.....
Me and R. Lee Ermy
ImageShack - Hosting :: meandermyhw4.jpg
Here's also a picture of a Radio-Technician patch from my grandfather in WWII, and a sharpshooter badge, i'm not sure if the badge is from my grandpa in WWII, or dad in Vietnam? Can anyone tell me?
ImageShack - Hosting :: patchandmedalvf1.jpg
Also have a Springfield from grandfather, WWII issued...and a Mossberg 500 from 'Nam, belonged to my dad. Too lazy to upload pics of that now though.
---
14th November 2004
0 Uploads
#24
13 years ago
From your Da. Since he had a shotgun I assume he was a Marine or solider. The navy doesn't have sharpshooter badges
---