jumjum
Write heavy; write hard.
50 XP
11th April 2005
0 Uploads
#1
11 years ago
What a hoot! Stumbled across this page (http://www.thortrains.net/armymen/ ) about plastic army men and had a delightful time looking around. Oh, man they were so cool to play with! No one from the late 50's through first half of the 60's could have possibly loved "Army Men" more than I did.
I must have had close to a dozen sets over the years, which numbered between 25 and 100 pieces each. I was WWII all the way, and my faves were Lido, followed closely by the Marx 54mm, with Tim Mee bringing up the rear (although I had no idea that's what they were until I found this page).
Yes, I had some GI Joes, but when it came to playing with them, all they were really good for was making a nicely heavy victim for death by hangman's noose.
I also had at least three or four Marx Civil War sets, MANY Cowboys and Indians, complete with a couple of Fort Apaches, and some farm animals to go around. I also had a Yorktown Revolutionary War set too. A younger brother had some knights and some M-16 guys by Marx. No pirates, Romans or Vikings, though.
I was definitely an outdoor scenario builder, with sandpiles soon giving way to terra-forming of dirt and building stick-and-dirt bunkers (almost impregnable!). The best sites were in the mud near a lake or creek bank - great trenches and bunkers could be made with mud of the correct consistency. But in these exotic locales stragglers were often accidentally left behind for future discovery.
If playing against at least one opponent, we would either take turns aiming at particular enemy men, or we would use "artillery" - small rocks or Lincoln Log pieces which we threw. In this way we learned about deep foxholes and not bunching up ourselves!
To add a little reality to our solo play, we would use grandmother's special gardening hoe-type instrument, which had a single narrow prong for digging. Striking at the ground near dug-in troops, this tool made extraordinarily (to us) realistic and violent artillery explosions, blasting up a foxhole-size crater i the dirt. This would obviously pepper any nearby soldiers with deadly shrapnel or, if striking too close, (horrors!) a man might be actually badly impaled and thus suffer an obvious and ghastly mortal wound. There was also BB-gun artillery, which would send men flying, sometimes pierced through and through.
But finally, in an Army man Gotterdammerung, as we got older we might introduce (ahem) a little napalm in the guise of a tad of gasoline mixed with a large amount of laundry soap. This is true, literal napalm. While not nearly as dangerous and explosive as gasoline by itself, it was still horrendously reckless of us, as the stuff could splatter. But we 11-year-olds knew it and took care -we thought. Anyway, as jaded Army Men players, we occasionally would finish a few off in a horrifying flamethrower-type death. Lotta black smoke and fire, and the men just - melted. So there was a downside. We also discovered that aerosol hairspray would turn into a literal flamethrower if it was sprayed over a lit match. Ye gods how did we not kill each other or burn down the entire state!?
Anyway, in this increasingly destructive manner we ensured that few Army Men survivors made it to the 21st century. Luckily a little bit more of our Army surplus from those years is still around I think - some packs, a few helmet liners , a few dummy frag grenades. But that stuff was never as good as the wonderful Army Men themselves.
---
28th March 2005
0 Uploads
#2
11 years ago
"One could annoy Mom by adding Army men to the Yule village under the Christmas Tree."
Oh, god, memories of Christmas in the Yossarian household. We had spacemen in the attic of the barn, a Ninja Turtle riding one of the King's camels, and Joseph wearing the snake from a Jake the Snake action figure.
Never did get around to Army Men though. I had one of those Godless Commie Hippy upbringings where guns and church were frowned upon. Even water guns were too corrupting, not allowed. Shows what parents know.
---
5th December 2004
0 Uploads
#3
11 years ago
Oh man i loved the little plastic army men, they were great. Me and my two brothers would have wars that went on for days in the backyard. We used pea shooters to shoot at each others men. If you knocked one over he was dead. Or a small rock flicked with the thumb for artillery. lol great times. I had a Gi-Joe too, i always used him as a crash test dummy in spectacular accidents!
---
stylie
Mas stylie por favor...
50 XP
13th April 2005
0 Uploads
#4
11 years ago
Ahhhh army men. I often wonder if there had ever been a thought like ~ "Imagine if we could play this with 63 other people from all over the world with tanks and planes and artillary fire...". Or some such... And now for your enjoyment, please enjoy some of stylie's favortie army men from the past...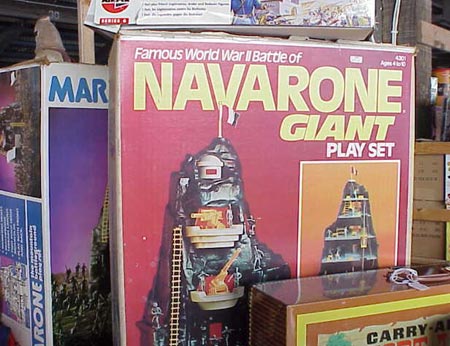 And not so WW2-ey, but 'battle' none-the-less.
---
Moose12
I am also [130.Pz]Gef.Elche Pz
50 XP
6th December 2005
0 Uploads
#5
11 years ago
I played with Micromachine for my war, I had desert/mountain bases complete with spring firing cannons, I had a ton of apaches and leopards and random bridge tanks, those were the days.
---
28th August 2006
0 Uploads
#6
11 years ago
Goddamnit Moose, you beat me to it; Anyways, when I found a store, Sears I think, where the bases were about 6 bucks on sale, I went nuts and got a bunch of them. Stealth fighters and M1's and BTR72's <3. Indeed, those were the days.
---
Moose12
I am also [130.Pz]Gef.Elche Pz
50 XP
6th December 2005
0 Uploads
#7
11 years ago
Micro-machines ftw!
---
2nd August 2007
0 Uploads
#8
11 years ago
Does anybody know wether there is/was a mod for bf1942/bf2 in army men style? It would be sooo cool!
---
jumjum
Write heavy; write hard.
50 XP
11th April 2005
0 Uploads
#9
11 years ago
Danger X;3887798Does anybody know wether there is/was a mod for bf1942/bf2 in army men style? It would be sooo cool!
Seems I have a hazy recollection of an "Army man mod" for vanilla BF1942. Maybe I was just thinking of the "Army Man" game itself. Wiki: http://en.wikipedia.org/wiki/Army_Men_(series)
Moosie and Coke, I forget sometimes that I'm talking to guys for whom Gulf War I is like WWII was for me!
sylie, you're exactly right. I don't how I haven't thought of it before, but this stuff I waste so much time on is just a more expensive version of playing army men in the back yard! Now I'm depressed.
Real-BadSeed, my guess is that every guy who ever had one, as he got a little older and bored with ""vanilla GI Joe", began conducting "How To Kill An Action Figure" experiments.
Yossarian - man, I am so, so sorry. NO toy guns? Not even army men, huh?
You never had any of the "Johnny Eagle" line of fine toy firearms?
Not even a "Man From UNCLE" Gun set?
I can't imagine life without toy guns. Are you in Vermont? Look, if you ever want to talk....
---
22nd August 2007
0 Uploads
#10
11 years ago
I had some great adventures when I was young in my sandbox, as it was a huge one. So many army men were down in it, but one day I lost interest apparently.
It was at my mom's house, and she has trouble with her back and so the yard eventually grew out of control, the brick patio the turtle sandbox is on is full of honeysuckle, cherry, elm, the lot. But the sandbox remains there, covered up by the tangle of trees.
One day, probably years from now, we'll cut down the forest of invasive saplings, and under them I'll find the army men, still in the same battle as I left them 15 years ago.
---