#1
14 years ago
"I just send zem up, I don't care vhere zey come down, zat's not my department", says Werner von Braun. As promised, today's issue of Fuzzy's WWII strangeness concerns rockets. And now just boring old bazookas, V2s and Stalin organs, but the Real Cool Shit. Today's topic concerns piloted rockets of all ilk. As usual, this is by no means a complete discussion, but rather a starting point for anyone with Google access and an interest to learn more.
Ohka
First off, the Yokosuka MXY-7 Ohka (Cherry Blossom) and Kugisho MXY-7 Ohka II that you're all familiar with from Iwo Jima.
The Ohka was a suicide rocket, designed to be launched from a ramp on land or on a ship (couldn't find any references, so sorry) or from underneath an adapted bomber, usually a Mitsubishi G4M Betty. NOTE TO DEVS: FIX THE DAMN VEHICLE ENTRY BUG IN THE BETTY! :-)
The thing carried between 600-1200kg of explosives (varying by model) in the nose and, when air-launched, was meant to glide to a few miles from its target, then ignite its solid fuel rocket engines (later versions were supposed to use thermojet engines, but none became operational) in a power dive and KABLAMMO via an impact fuse. Several examples are still around, including at the NASM in Dayton, OH and at the Smithsonian.
Despite US forces' moniker of "Baka" (fool), Ohkas did quite a bit of damage considering that pilots were barely trained, including successfully hitting the USS West Virginia and a number of other ships off Okinawa on 1. April 1945. More at http://en.wikipedia.org/wiki/Ohka as always.
Me-163 Komet
The Messerschmitt Me-163 Komet you've probably seen in Alpenfestung. It was launched from a wheeled trolley and packed twin 30mm cannon. Landing was on a centerline skid. The volatile two-component fuel mixture based on hydrogen peroxide (a lot of blond German pilots, I guess) wasn't conducive to long-term survival of Komet jockeys, as they had a regrettable tendency to explode on takeoff, at landing, when hit, jostled, or looked at nastily.
Jagdgeschwader 400 under Major Wolfgang Spates is the only unit to use these planes operationally. This guy here has a load of pictures on wartime Komets:
http://www.xs4all.nl/~robdebie/me163.htm
Bachem Ba-349 Natter
The Ba-349 Natter (adder), although it was never used operationally to my knowledge, was a vertically-launched interceptor which was tested successfully several times (a number of pilots even returning alive.) The interceptor packed 24x73mm Foehn rockets, or 33x55mm R4M rockets, which it was to launch at bomber formations. When it ran out of fuel, the pilot would eject both himself and the valuable engine, both of which would parachute to the ground.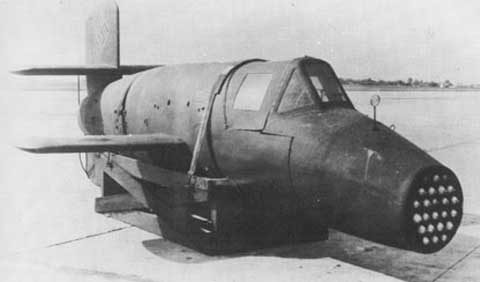 Here is a pic of a Natter being launched:
At this point, I should probably mention the Fieseler Fi-103 Reichenberg, a piloted variant of the V-1 "buzz bomb". Designed to be piloted by hitler youth and other crucial personnel, it was meant to be ramp-launched and rammed into Allied troop concentrations and other targets, with the pilot ejecting before commencing his dive (assuming he managed to avoid the gaping pulse jet engine air scoop behind him). However, it's not a rocket per se, so you'll have to make do with a picture:
Rocket Packs
Claims exist that the Germans developed an infantry rocket pack (ever notice how the rocket pack in Secret Weapons looks exactly like the one from The Rocketeer?).
However, this is probably left to the world of Gear Krieg, Hollywood and bad pulp novels. If anyone has any convincing sources, please do share.
The next topic, depending on what I feel like:
-death rays -excessively large and impractical airplanes -German mine clearing monster tank -rockets (unmanned, but really, only the cool ones) -midget subs -nifty spy toys
Feel free to PM me suggestions for anything sufficiently exotic that you're interested in.
---
#2
14 years ago
odse everyone know the story of the creater of the ohka?
---
8th January 2005
0 Uploads
#3
14 years ago
Oooh here's a suggestion, the E-Series of tanks :D
---
#4
14 years ago
Some more info on the Natter: "Constructed of wood in 250 man-hours with unskilled labor, the Ba 349 Natter was designed to be launched vertically, when enemy bomber formations were sighted in the area. Initial gliding tests were done in 1944 by dropping the test aircraft from a Heinkel He-111 bomber from 18,000 feet. The test pilot attained a speed of 425 mph. Controllability was excellent down to speeds of 125 mph. Roll and pitch control was designed to be accomplished by use of the elevons at the rear of the aircraft. As there was no landing gear the pilot bailed out when the tests were complete..." (continued here - http://www.fantasyofflight.com/aircraftpages/natter.htm )
Apparently during powered verticle takeoff the pilot was subjected to 2.2 G of accelleration with the aircraft gaining height at a speed of 37,000 feet/minute! The Fantasy of Flight guy owns a replica of a Natter. Not entirely sure what the point is as presumably he doesn't take it up for joy rides. It also needs a camo scheme adding IMHO...
---
#6
14 years ago
Nikola Tesla was developing towers that shot bolts of lightning (giant Tesla coils) at planes, tanks, trucks, vehicles and personell. here is an aritist's rendition
---
27th April 2003
0 Uploads
#7
14 years ago
'[130pz.Kading']Nikola Tesla was developing towers that shot bolts of lightning (giant Tesla coils) at planes, tanks, trucks, vehicles and personell. here is an aritist's rendition
oh yeah Red Alert.
---
#8
14 years ago
Man if I was a Japanese Kamakaze pilot I would have been deathly afraid of the Ohka. Once you were in it, there was no way out.
---
#9
14 years ago
Artie Buccooh yeah Red Alert.
no, in real life, Tesla designed a border defence system for his native Czechoslovakia that incorperated his Tesla coil towers before the second world war. the Czech government declined for reasons of cost.
EDIT: most of the technolegy in the Red Alert series is based on stuff that actually exists.
---