#1
14 years ago
Hi kids,
today's episode of Fuzzy's WWII-era silliness is about Dr. Eugen Saenger's concept for the "Amerika Bomber", a suborbital rocket-fuelled plane designed to be launched in Germany, "skip" along the atmosphere, drop a BFB ("big f***ing bomb") "somewhere" on a certain big country on the other side of the Atlantic, and glide back to the Vaterland.
The thing never really got anywhere beyond the model-in-the-wind-tunnel stage thanks to resistance from the Luftwaffe, as well as the fact that it was wayyyy ahead of its time, but nonetheless the idea is kind of nifty, as it ties in nicely with the whole Nazi UFOs thing, more on which in another instalment.
Cutaway drawing of the Amerika Bomber: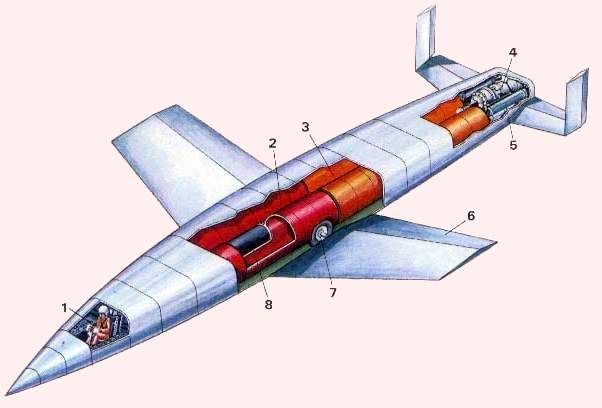 A model photo of the Amerika Bomber over New York
More info on this and other exotic WWII experimental aircraft at http://www.luft46.com/
Discuss.
---
#3
14 years ago
I want one too, where can we purchase such a awesome aircraft, mister fuzzybunny?!
---
#4
14 years ago
By the way, does anyone like these posts? If so, I have tons more material and links to similar esoterica that I can do on a sort-of daily basis...
---
#5
14 years ago
That's great, you should make a topic dedicated to all those strange weapons of war :D
---
#6
14 years ago
Yes that was one of those secret projects the Germans had at that time. But this one was also one of those (like others such as the Horten Ho 229 used as a base for the B-2 Spirit Stealth Bomber) used by the Americans to build their own new aircrafts. As I saw on History Channel this Saenger Amerika Bomber was the starting base for the present time and well-known Space Shuttle. It seems there were various versions of the Sänger: In this picture of the Projekt X 31 Sänger you can clearly notice the Space Shuttle similarities:
US Space Shuttle:
---
#7
14 years ago
War coninues into 1950s...expands onto a new frontier: Space. Royal space navy etc. I like steampunk.
---
#8
14 years ago
I want that plane for an eastern egg. Of course it would be useless and you would end up out of bounds in less than 10 secs :lol: . Or maybe just make it so its engine explodes once you start them. It would be a prototype after all ;)
---
#9
14 years ago
That thing was way a too ahead of its time. The Nazis would have needed to keep fightig until 2000....:rolleyes:
---
#10
14 years ago
I doubt its possible to do these even with modern technologies :uhm:
---