#1
14 years ago
I just picked up this new keyboard today to replace my aging Logitech ITouch that I had been using for around 4-5 yrs now. Today I hopped over to my local futureshop and to my surprise they had a nice slick Saitek keyboard in stock, black, silver buttons with blue LED backlighting under the keys. I had seen it on the website and found it at the store to be the only one they had left on the shelf. I was thinking about a back lit keyboard anyways so I guess I found this at the right time.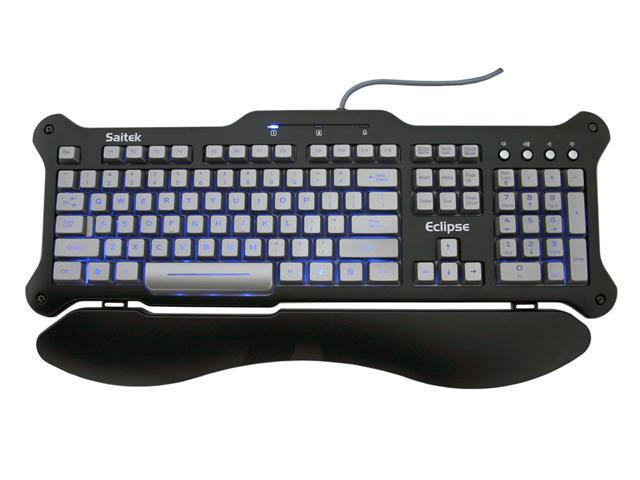 Night pic (not a self pic)
So far I'm loving this keybaord. I couldn't tell much about it in the store except to pull it out of the box only able to see that it had some high profile keys, so my guess was that it wasn't a really silent keyboard. Surprisingly though, even though the keys are not low profile, they are soft touch and are very silent. They whole keyboard as a package itself is a nice, small & clean package that's no nonsense (no extra media keys and such), it only consists of all your standard keys with 4 buttons, 1 for mute, 2 for volume control (1 up, 1 down) and 1 button for the backlight settings, High>Low>Off. This is my first Saitek product and I gotta say I'm impressed with the build quality. This keyboard is slim, low profile, silent buttons, sexy backlight, built with an aluminum case so it's built like a tank and it's design in conjunction with it's rubber foot pads makes sure this thing doesn't slip or slide around at all. Finally even though the palm rest is skimpy it is adjustable to 3 different settings. It was a nice find, made my day, considering I was out in the thick of things Christmas shopping and barely put a dent in the amount of stuff I have to buy with less than a week left.
---
#2
14 years ago
Sweet!! You Can Do Porn Searches In The Dark!!
---
#3
14 years ago
Nice keyboard, I would use such lighting on keybord. When I play FH at night with all lights off I have some serious problems with findeing proper keys on my black keyboard...:p
---
#4
14 years ago
What happens if you push a key and you are a little off target, with a regular keyboard it will still push down straight, soft key might not register, also, what did it set you back?
---
#5
14 years ago
The keys are great. The cost was $79 Canadian.
---
#7
14 years ago
Looks interesting, though personally there is just something about the clicking of some keyboard keys that I love. The coloring would seem a bit odd with your average cream colored computer, but the backlighting looks great. When you're up at 4AM it's sometimes a nice thing to be able to keep all the lights off so you don't disturb anyone. ;)
---
#8
14 years ago
Ensign RilesWhen you're up at 4AM it's sometimes a nice thing to be able to keep all the lights off so you don't disturb anyone. ;)
You've got the point.:D
---
#9
14 years ago
Nice Keyboard,
I need to get a good keyboard and mouse combo to replace this Microsoft Wireless combo which is good but the battery needs changing at the worst possible moment and this really annoys me. I'm looking to get a Logitech G5 gaming grade mouse and some kind of keyboard with full multimedia controls, probobly a logitech one.
---
#10
14 years ago
Trust me, the keys on this thing are butter. Like I said, they're not low profile but have that nice soft touch low profile feel, you wouldn't expect it looking at the keys.
@MG42Maniac. I also picked up a new mouse at the same time, my Microsoft mouse was going a little wonky with the right click button so I thought I'd just replace both. Only thing was alot of the bundles I saw (KB & Mouse) were either very large, bulky multimedia keyboards, were wireless which I wasn't in the market for, or had loud clunky keys and I felt it was time to move on up in the world.
I used to use my multimedia keys all the time on my old logitech kb but since starting to use Firefox and taking advantage of the bookmarks toolbar, the only multimedia keys I was using on my logitech were the volume keys, which this Saitek keyboard has to so it's no real loss.
I swear, the way this thing is built with it's sluminum housing I think if someone broke into my house to rob me I could just beat them up with my keyboard if I had to. lol
---