#12
12 years ago
Gator that is awesome haha, that's really creepy though.
---
4th November 2003
0 Uploads
#13
12 years ago
Sounds like the plot to the Night of the Living Dead remakes.
---
#15
12 years ago
Moose12;4016102It's fake by the way.
haha ya, but it does look legitimate
"A United Nations team will be dispatched to Cambodia to confirm the safety of biological research in Cambodia." - sounds so familiar, they could base a pretty fun resident evil type video game off this idea
---
5th December 2004
0 Uploads
#16
12 years ago
I knew he escaped to the U.S.!!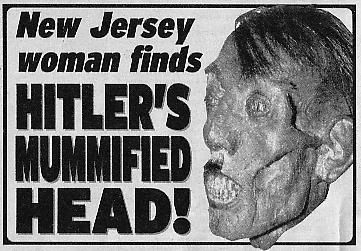 ---
#17
12 years ago
We could just continue to post articles from Weekly World News for years lol.
---
#18
12 years ago
Woohoo! WWN! I loved seeing the Weekly World News in the suprmarkets, with their always-bizarre stories. Unlike the Star or National Enquirer, WWN never pretended it was a newspaper, but embraced its true identity as a rag for the mentally deficient and terminally gullible.
---
#19
12 years ago
But it was fun, "35lbs women gives birth, to twins!" "Batboy sighted in Michigan!" "World War II pilots flying around the moon think the war is still going on!"
---
26th September 2007
0 Uploads
#20
12 years ago
yeah those sure wher over the top articles.
---