#21
12 years ago
To bad WWN went under last year... :( It was always good for a laugh!
---
#22
12 years ago
Real-BadSeed;4017493I knew he escaped to the U.S.!!
"With mustache perfectly preserved!"
---
#23
12 years ago
This is for any of you Bowlers out there. There's a device that has been a closely guarded secret. :)
[COLOR=dimgray]Bowling Sight[/COLOR] [COLOR=dimgray]US Patent Issued In 1965[/COLOR]
[COLOR=dimgray]Bowling is not as easy as it looks. It requires focus, control and strength to knock down the right pins. [/COLOR][COLOR=dimgray]Most people find it especially difficult to bowl over a single pin because it's a small target. So how can you improve your game and your aim and achieve bowling fame? With the hand mounted Bowling Sight! The top of the Bowling Sight (#56) looks very much like the V-shaped rifle sights of old. The entire contraption fits over your four fingers like a giant hand band...something akin to a ring you might see in the Liberace Museum. Fortunately it slips off easily so you can quickly remove it to minimize the ribbing you are sure to get from your bowling buddies. [/COLOR]
Spoiler:
Show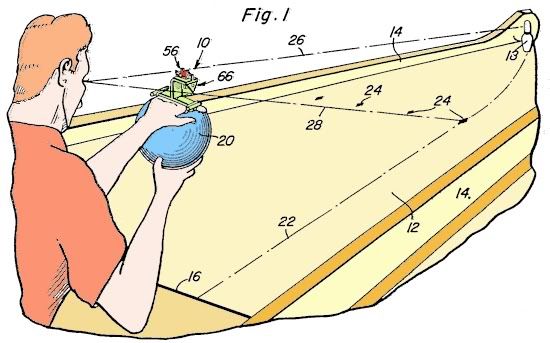 Some people really are snipers!
---
#24
12 years ago
that really reminds me of the bridge cue some people use in billiards
---
14th November 2004
0 Uploads
#25
12 years ago
#26
12 years ago
Yeah those are beautiful cars. Nice nostalgic look to them! :)
---
20th August 2006
0 Uploads
#27
12 years ago
I like how they look nothing like the original one they're trying to re-create epic fail on ford's part. Why not make some prints of the exact same body style, but different structure/chassis/powerhouse?
It reminds me of looking at a really really cool 1968 Camaro SS, and then comparing it to a 1984 Camaro SS. Not even close to looking as good as the original.
I myself would rather buy a metal body duplicate of a 1944 Kubelwagen (they are being re-printed in Colorado), mount it on a VW Thing (type 181) chassis, and throw in a Subaru 1.8 litre engine....and still have 30 grand left over in my pocket.
---
#28
12 years ago
Exactly, finally Ford should make a mustang without a steel pipe connecting the two rear wheels. As topgear says, "If you're going to buy a car that goes fast in a straight line, buy the one with the pedigree..." and with the cool/original sound. Or, as Wassefaller says, they should make new mustangs which look like the old ones but with advanced, not "new"(ford you lazy/cheap bastards), suspension that doesn't kill a load of teenagers each year.
*holds in urge to mention anything to do with Skylines*
---
14th November 2004
0 Uploads
#29
12 years ago
Any teenager whose parent's bought a 'Stang for 'em and have the malice the wreck the car can deal with it.
---
#30
12 years ago
Well here is a neat invention a guy built in his backyard, it's a 15 foot tall tesla coil! Needless to say his Oklahoma neighbours aren't to happy about it! lol YouTube - BIGGG TESLA COIL OF OKLAHOMA This is a mad scientist special, and a must have for all those interested in the outer fringes of scientific research!
---