29th January 2005
0 Uploads
#1
11 years ago
I was just minding my own business, browsing FH Off Topic, when all of the sudden I hear a scratching and rustling on one of the cardboard boxes stacked in my room...and I find THIS little demonic minion crawling up the stack:
Spoiler:
Show
It was a hard-fought battle but finally I trapped it under my maglight and grabbed a back leg with a pair of long handle pliers...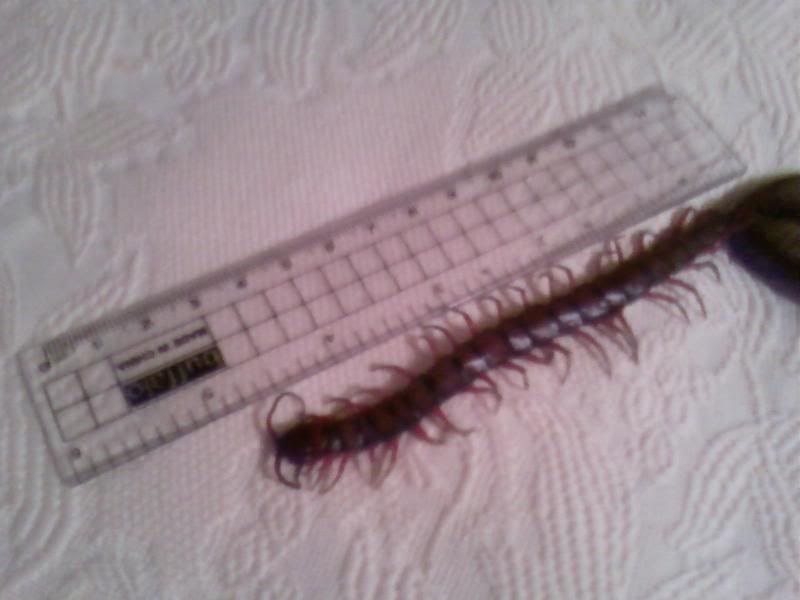 I'd put this guy (keep in mind he's a bit scrunched up) at around average/medium size-the big ones can get to 6" or 7" long...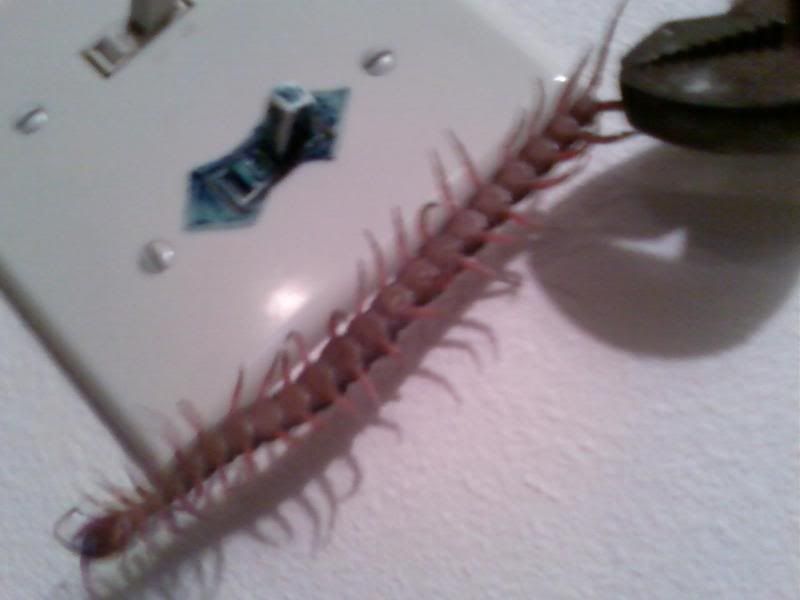 Exposing its soft underside next to a standard light switch. The dark red parts near the head are hardened mandibles that it uses to *audibly* grind against its captor with (in this case the pliers).
Sorry for the blurry phone pictures, btw :p.
Needless to say, it was promptly disposed of in the toilet.
I'm glad we don't have snakes in Hawaii, but when you have these crawl over your feet while typing/playing on the computer THREE times it's a little er well... :rolleyes:.
Just thought I'd post this and maybe start a "horror stories" thread where you can share your own encounters with things that make you tweak out when a loose thread tickles you in bed.
---
#2
11 years ago
gah! I would be scared shitless:P
don't flush it down the toilet, you know that they reproduce in there right?
well, we don't have very large/dangerous animals in sweden, but I can find spiders in my home from time to time. but one time 2 wasp queens somehow came into my room when I wasn't there. and they were looking for a place to swarm and built a nest. fortunately, I got there in time.
and what "tickles me in bed" is when I just have shut the lights, and try to sleep, at the brink of falling to sleep, I hear a mosquito zzzzZZZZzzz coming close to my ear. that's one of the worst things I know, I can't sleep with it in the room and have to hunt it.
---
#3
11 years ago
Oh god. Right before I read this post I killed one in my house the same size. Hate them!
---
19th February 2007
0 Uploads
#4
11 years ago
bugs of any kind a gamers wort nightmare (pun intended :D)
dont you just love warm summer evening you are playing and have your windows open so maybe some fresh air will cool your room under 30°C but as soon as it gets dark you have around 30 flies and bug in all sizes swarming around your monitor
---
#5
11 years ago
Well, there is this little demonic creature:
Hate it when she steps on my keyboard and/or bites my feet.
---
#7
11 years ago
In case anyone is wondering, we didn't turn this into a "Show your pet"-thread, it's just that we don't really have any creepy/unusual insects and/or animals in Finland. =p
/Edit: Actually, now that I think about it, we have these:
Lipoptena cervi - Wikipedia, the free encyclopedia
Really annoying for hunters and other people who stroll in the woods in autumn.
---
#8
11 years ago
Except squirrels.
...damn them squirrels :mad:
---
#9
11 years ago
Did they crap in your morning coffee or something?
---
#10
11 years ago
They are listening my phone and checking my mail. I know all this because they send me a pine cone in a letter as a threat.
---