#1
12 years ago
Yer always on about Germany jets this, Germany jets that...
---
7th December 2003
0 Uploads
#2
12 years ago
Did they want to shoot a proton-torpedo into the ventilation-system of the Reichstag? :)
---
17th October 2003
0 Uploads
#3
12 years ago
Homeland security will be after you for leaking this classified photo!
---
stylie
Mas stylie por favor...
50 XP
13th April 2005
0 Uploads
#4
12 years ago
The problem is that it is not in take-off or landing configuration. There was this button on the back that closed the wings, you know right behind R-2? Anyways you have to squeeze that button behind him with your thumb. F'n nooby jedi's...
---
Jetro
There's a satchel on your tank
50 XP
6th December 2004
0 Uploads
#5
12 years ago
But wait there's more!
Here's a rare photo of a little known battle were US mechs face of agaisnt the new prototype german destroyer "Bismark Mark II" also known as the "Pyramide von ehrfürchtigem".
The germans 2nd try at Carenteen. (the sherman won btw)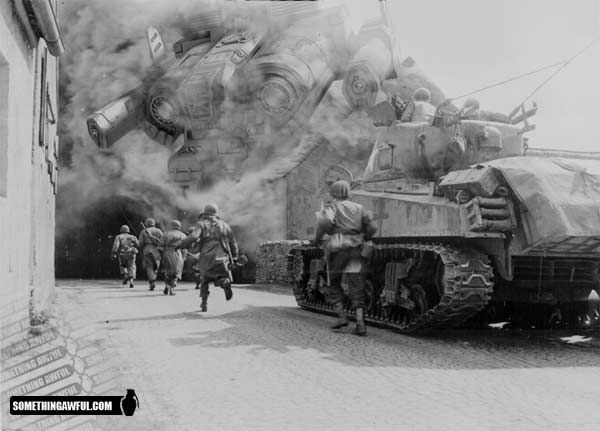 Finnally, a captured Japanese weapon.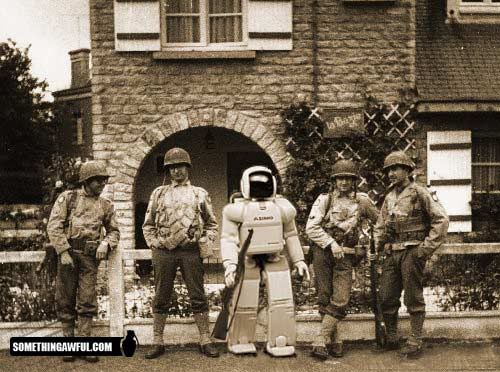 ---
#7
12 years ago
Here's the awesome pzIIIw (Walker) in combat action on the caucasian front, fall '42.
the hardly known StugIIIw
the fear of the enemy: tigerwalker mkI
US Special Forces, receiving merites after Hurtgen Forrest:
Here are some real ww2 projects: kalinin k-12 (USSR)
B2000B "Superbomber" (US)
The Vakhmistrov "Parasite" Fighters (USSR)
This one is actually from 1911! (US)
:eek:
---
affeee
Proud to be an FH player
50 XP
15th January 2006
0 Uploads
#8
12 years ago
'[5thLupin'] [spolier][/spoiler]
that reminds me the ATKT
Spoiler:
Show
:naughty:
---
LOZZY
Whitty user title pending...
50 XP
19th April 2006
0 Uploads
#9
12 years ago
25th October 2004
0 Uploads
#10
12 years ago
LOl nice one, some real renders wow
---