#1
13 years ago
The Brains of EA have come out with a new brilliant way to piss more people off.
This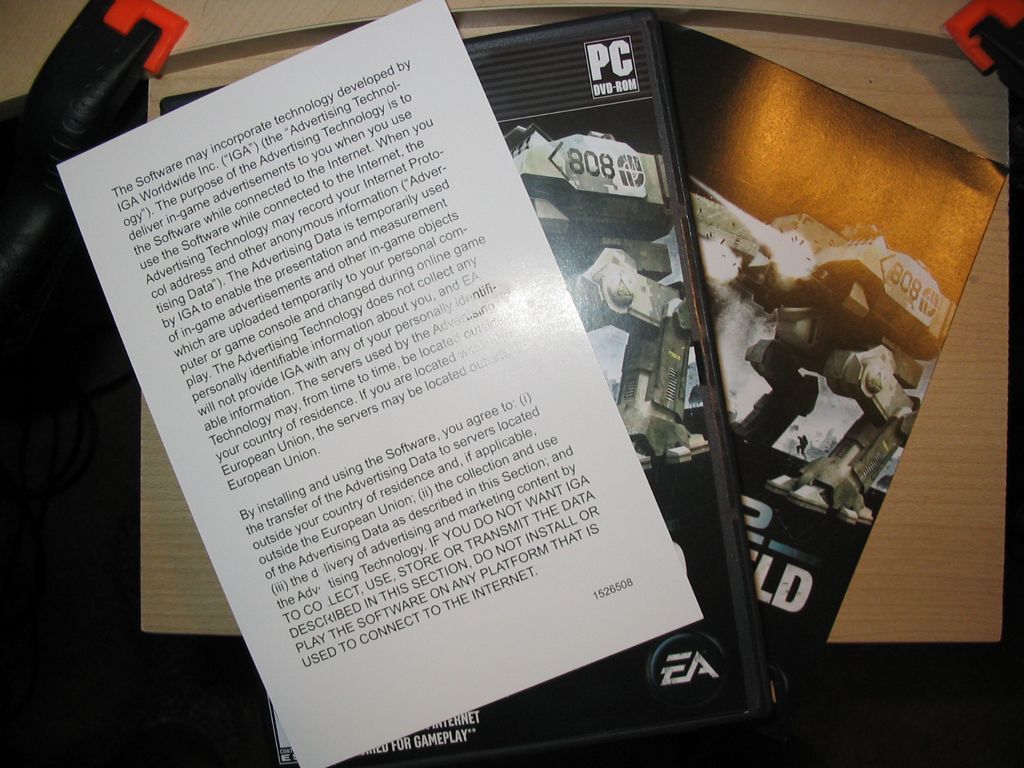 from gamespot uk http://uk.gamespot.com/pc/action/battlefield2142/review.html?sid=6159893&page=2
"On a peculiar note, even though the world is ending in 2142, it appears that advertising will still be around. Battlefield 2142 features in-game ads, though we didn't get to see them firsthand during our testing. Still, there is a printed disclaimer that comes with the game telling you that Battlefield 2142 will analyze certain "advertising data" on your machine to determine what ads to display to you. Ironically, EA says that if you don't want your data shared with its advertising partner then "do not install or play the software on any platform that is used to connect to the Internet." But that would pretty much defeat the purpose of playing Battlefield 2142, wouldn't it? Of course, you could always play single-player against the artificial intelligence, though the AI won't be mistaken for human opponents any time soon, and the single-player is still limited to 16-player maps. Still, this is an example of things to come, as we begin to see dynamic in-game ads appear in more and more games. "
---
#2
13 years ago
Honestly?
...that's retarded :/
---
#3
13 years ago
Well, i wont be buying BF2142 anytime soon
---
#4
13 years ago
That's it... I hope FH will transfer to some other game houses than EA's game when the FH2 for BF2 is done, because this is getting ridiculous... "Hey! Those lousy gamers are just buying the game, and after that they give us no more money! Let's make them pay us more.":uhoh: What next? Monthly fees like WoW? Seriously, isn't it enought that we buy the game from them? Why should we have to install spyware for them to get even more money?
---
#5
13 years ago
The worst part about it is that the paper in the above picture comes inside the box, there no info on the box about the spyware, so when you do get the warning you have already bought it!!
Marketing at its best!!
---
10th April 2004
0 Uploads
#6
13 years ago
That's a fry!! EA can't make enough money selling games so we are to be sold as advertising as well? Not that I'm buying this game but who knows where else this will or already has cropped up... Very, very sad indeed!
---
#7
13 years ago
I don't know if i understand correctly, but if you play bf2142 online, you get pop-ups ingame? How can you play then? EA's reputation has once again decreased in my eyes.
---
5th February 2005
0 Uploads
#8
13 years ago
I bet we'll have the honor of paying monthly fees on the next Battlefield game.
But anyway-- the game itself feels like a mundane BF2 mod, this ingame ad junk only assures me that it is crap. EA has no soul! It's a corporation made of greedy little buisnessmen. :P
---
#9
13 years ago
I imagine that the game will check what websites you regularly visit using your cookies and advertise a banner or something to do with your intrests in a loading screen or (I doupt) in mid game, Deathscreen, class selection or maybe a static billboard in the town centre.
---