#1
10 years ago
A Voodoo ritual has apparently resulted in a fatality. What makes it of more than passing interest to FHers is that the death occurred near the stomping grounds of longtime FHer, stylie. More about possible connections below.
A 21-year-old transgendered man (living as a female) from Arkansas died Saturday night while undergoing a voodoo ritual in the Philadelphia area. The ritual was intended to cleanse the deceased of spiritual impurities: Voodoo became a fatal obsession | Philadelphia Daily News | 07/14/2009
The rite was performed by a man who is identified so far only as "Houngan Hector" (Houngan is the voodoo term for a male priest of the religion).
Spoiler:
Show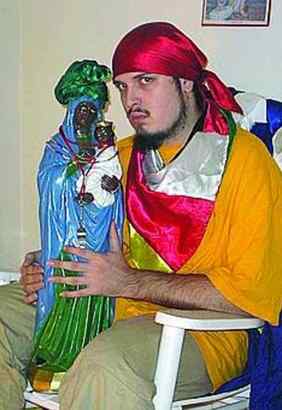 Houngan Hector with friend 'Lupe.
There is not much known thusfar, except that Houngan Hector, last name unknown, is apparently the head of the "Gade Nou Leve Society" of Voudou/Voodoo practitioners in Gloucester Township, New Jersey. Now even though this township is in New Jersey, it is only about 15 miles away from Philly across the Delaware River. The group's website has been shut down, as has it's yahoo group page.
But the wise Latina, er, super sleuth jumjum, has located some other websites associated with Houngan Hector's Sosyete Gade Nou Leve: Sosyete Gade Nou Leve I personally am sort of creeped out that the society name translates as The "Watch Us Rise" Society. I don't know about you, but my first thought was of.....zombies! Also, tireless bloodhound jummy has tracked down Houngan Hector and the Sosyete Gade Nou Leve to YouTube, where we have Houngan Hector performing actual Voodoo rites YouTube - OgouCallsmore Ogou.asf as well as taped testimonials which appear to be aimed at bringing in business to the devout Houngan Hector. So here are my questions which may be relevant to FH: does anyone know where stylie was Friday and Saturday night? Might he have been in.......Gloucester Township, NJ?
Also, hasn't stylie been known to wear......a pirate do-rag? Yes, I think evidence exists in the form of photographs, which were posted on FF within the last 3 years. How can I be so sure? Because some photos are so striking you can't forget them. For example, that pic of Donutz riding the huge Sturmtiger rocket projectile? Seared, seared into my memory. The same with Houngan Stylie's, um, I mean stylie's pirate-rag pics. I remember looking at that pirate bandanna on stylie and thinking, "I wonder if one day I'll see a picture of stylie as a dark-haired voodoo priest who is a suspect in a possible homicide just across the river form Philly...."
Think nothing of the appearance of Houngan Hector as it seems to differ from that of the blond stylie - for a Voodoo priest who can raise zombies and cleanse souls, a dye job is child's play. And don't forget, over the poast couple of weekends, stylie cleared the house of his family, supposedly so he could "remodel" in peace. But isn't pulling up the carpets so you don't get chicken blood on them "remodelling"? Yes, I beat those walls had to be scrubbed clean....
The evidence begins to mount....
---
#2
10 years ago
I'm seriously freaked out right now. Reason: I read the thread title while hearing a song by a German rap group that spoofs gangster rap groups. When I started reading the following line came up (badly translated by me): "Today I have my voodoo exam, and raise my terrible hooligan ancestors, the thriller cd gives enegery to the dead, they dance Michael's choreography"
Conincidence? I think not...
---
20th March 2008
0 Uploads
#3
10 years ago
The message is clear TS. Michael Jackson will resurrect with help of Voodoo and he will make some more hit songs.
---
#4
10 years ago
HAHAHAHA!!!! Yeah I know where that place is, you occasionally see an odd story of a headless chicken sometimes. I saw that story all day but did not bother with it. Im trying to remember which pic you were talking about, but yes, I can clearly see Donutz on the cannon. That pic has major potential in some communities of this world, put it next to him nuzzling a koala bear and a pattern emerges!!!! Dont forget Coca Cola (Or was it John Walker? both of which are missed around here!) as NorthWestern Sylvester Stallone on European Vacation. Guy looked so much like a young sly it was scary! OK Ray Romano at least!
---
19th March 2007
0 Uploads
#5
10 years ago
I don't live that far away form there either. But, as far as I know, I've never been to "Gloucester Township."
I wonder if that's going to be in a next edition of "Weird New Jersey."
---
#6
10 years ago
Too, too many "coincidences" here. I may have to start carrying holy water, a crucifix and a wooden stake. Wait, does that work on Voodoo priests who are homicide suspects? We know it doesn't work on zombies - they have their own defense stations:
Spoiler:
Show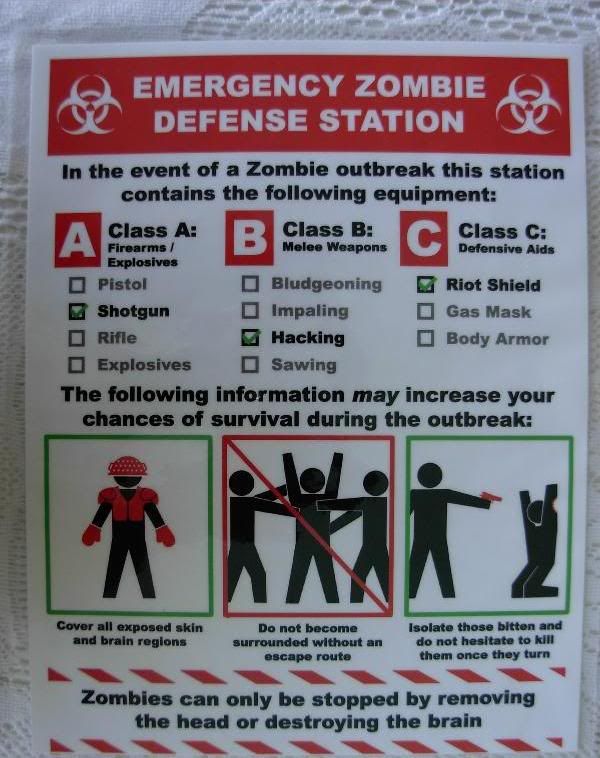 ---