stylie
Mas stylie por favor...
50 XP
13th April 2005
0 Uploads
#1
12 years ago
DRAGON'S LAIR!!! I just ordered this for my girlfriends children (The PC version!!). They are 3 and 5. They totally love knights and swords and the like. This game took all of my money when I was 10 years old. I think they are gonna love it. Right up a 5 year olds alley. If you dont know the game, it used the old laser discs, as big as a 33 rpm "LP"... crap most of you wont know that either!!! Anyways, when you were busy playing Tempest, Defender and Gorf, this game was like a dream come true. You make one correct or one wrong move and it would display the success or failure scene and you either progress or reach back into your pocket for more money!!! So basically you would move the joystick in one direction or hit the sword button and the next movie would quickly be shown. Anywho, what video game was the first to hook you into gaming?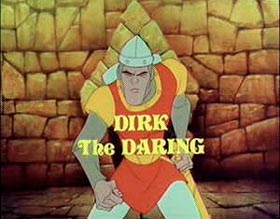 ---
#2
12 years ago
The first game I got REALLY hooked on was Sim City for Snes. I always loved that game. But my favorite classic games are all for N64. Legend of Zelda- Ocarina of Time(which is not only my favorite old game but also by favorite game in general) Golden Eye 007, Star Fox 64, and soo many others.
Mind you I've not been around as long as some peeps so to me these games are classics, to alot of people here they might not be.
---
21st August 2005
0 Uploads
#3
12 years ago
Moble suit gundam: Zeonic Front
---
Frenkan
Trying to stay out of room 101
50 XP
30th April 2004
0 Uploads
#4
12 years ago
---
8th December 2003
0 Uploads
#5
12 years ago
Ghouls N Ghosts for the Sega Genesis.
---
1st February 2006
0 Uploads
#6
12 years ago
A very old game called link.
---
29th April 2005
0 Uploads
#7
12 years ago
Not that old, but Baldur's Gate Series, Fallout Series
---
#8
12 years ago
Resident Evil 1 for PS1, I bloody loved that game and could play it for hours :D Other fav games are Star wars episode 1 for PS1 & Jungle strike for Sega Megadrive :) And playing street fighter with my siser was great, picking up random weapons and beating the shit out of some thugs with it :D
---
28th March 2005
0 Uploads
#9
12 years ago
Sonic for Sega Genesis
I miss that game :(
---
8th December 2003
0 Uploads
#10
12 years ago