#1
13 years ago
I know this has already been discussed, but its 30 days old so I can reply to the old thread...which is...http://forums.filefront.com/showthread.php?t=267203&highlight=train Now I'm taking an about-face on this issue as I believe it can be done. I don't know if anyone has gotten stuck in a Polish tankette on railway tracks in Easern Blitz, but its bloody annoying. You just can't get off!!
Although I did eventually get off by driving for 2minutes till I found a flat road intersection, I still like the idea that we could drive a train like a truck that is confined to a rail track. The train can turn if the rail isn't too sharp a corner and the rail could be surrounded by a small wall to stop the train getting off. Then again I couldn't get the tankette off the rail, so maybe the train just needs to be the right size. The only problems that I can forsee is that maybe players would find a way to eventually get it off the rail and cause havic. The map would have to be tweaked in much detail to stop this occuring. Also if we created a small wall paralleling the rail, it would divide the map from other vehicles unless bridges/tunnels were put in. Other than that, I think a train could be implemented
---
#2
13 years ago
Trains make me happy. FH devs, would you make me happy? Wait, this last sentence tunred out... gay... Still, I' d love to see trains in FH...
---
#3
13 years ago
Yes i would really like to see trains in Fh2, they would especially be great in the desert seeing it is such a big thing get across, u know what would the best, if we could ahve 1 of those huge 20cm guns(naval guns off a battleship or something) mounted on a railcar and use it as Arty, that would be devasting, along with that maybe we could transport tanks and equipment with the trains faster than having them drive all that way.
---
#4
13 years ago
Yes, the only time I ever got to play this map, i got stuck on those tracks with the tankette (which BTW is the coolest vechile ever!!!:D ). Im fairly sure you can only get stuck there when you dont want to, thats just how the world works and devs aren't holy enough for changing those rules:p
---
#5
13 years ago
I like hawks idea of being able to transport tanks on them. Would be especialy useful for slower tanks like the matilda. It would produce some awesome in game moments too, imagine a typhoon atacking a train loaded up with king tigers as some onbored AA guns try to shoot it down :D Could they also become mobile spawn points? Would be cool to see lots of russian infantry jump off a train on a big map like prokarovka.
---
#6
13 years ago
Yes it's a great idea
Could they also become mobile spawn points
More funny to play... I would really like to see train in FH2, I think it's not a real problem ??? But just little armoured train (because little map ), for respawn and artillery (and why not, fight...) Imagine, war in 1943, german VS member of the yougoslavian resistance, german forces arrived in armoured train to destroy yougoslav base...
---
#9
13 years ago
like titans, conquest , co-op, why not the armoured train mod, with the objectives to destroy ennmy train, or destroy ennemy resistance...
polish armoured train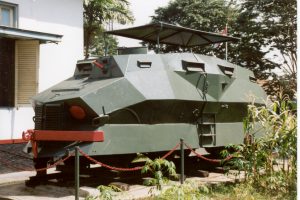 ---
#10
13 years ago
Those pics only enhance my idea of making tanks transportable on them along with some AA protection.
---