#1
12 years ago
Most of the time, people couldn't exactly get throguh barbwire "easily".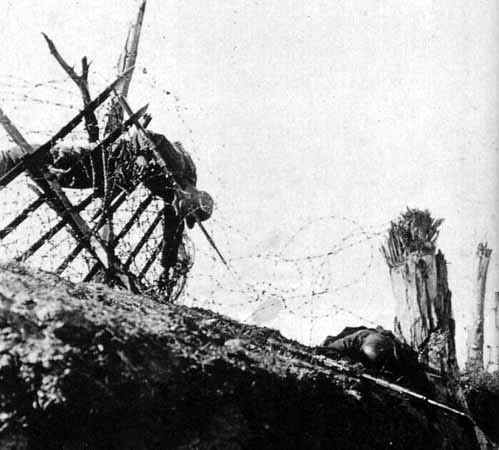 Why not there be a lot more damage to barbwire? Maybe you take 35% damage going through, or sumtin a little more. Or maybe when you hit it, you go through it slowly so you get more damage. mybe like the guy in the picture, you can't even get through it, or just not through certain lines of it.(maybe double stacked wire so you take dmage from both lines.) It make them think twice about just running through it.
Maybe you could even make it so you can blow it up or another method of going through it(thats if it is impossible to get through without dying.)(masybe every 10-15 feet can be a little vehicle)
---
#2
12 years ago
I'd simply post a :) as a reply, but it appears that would be spam. So.. here ya go.
:)
Interpret(sp?) as you wish. ;)
---
#3
12 years ago
I don't think itshould automatially kill you or even hurt u that much. I die enough as it is in FH1.
---
#4
12 years ago
Umm I would put money down that that gentleman did not die from barbed wire. If you want to make barbed wire impassible to upright players but passable to prone players and vehicles ok.. Concertina wire at the crest of a trench would therefore not passable at a crawl even but still passable to bullets.. So no damage from barbed wire, Cannot go through it, Guess Ill go around it or under it. Goin' on a Panzer hunt...
---
#5
12 years ago
If possible I think the damage you take from barbed wire should be based on how fast you move through it. Not sure if it is possible because in BF1942 the damage you take was based on how long you were in the barbed wire. You could be standing completely still just barely touching it and lose all your health in a matter of seconds. But if you run and jump over it you only take about 10% damage. This is ass backwards IMO.
There need to be a way for infantry to get through it without taking a lot of damage but it should really slow them down and make them easy targets.
Maybe if you try to sprint through it then take 75% damage. If you run through it you take 40%-50% damage. If you crawl through it maybe 10% damage and you accuracy completely goes to hell. Then it would slow you down and make you defenseless but still allow you to get past it.
Oh yeah, and make sections the barbed wire destructable for engineers with satchel charges, like the bangalores on Omaha that is a cool feature but it is too bad it is limited to only the one map.
---
17th January 2007
0 Uploads
#6
12 years ago
mady they could have like a certan kit (spec opps or engener) have a wepon thatwould be like snips that would remove a small section (maby like 2-3 ft.)of barbed wire but it it would take like -X- seconds to take apart that one sectoin and have like and animation of the person cutting like the animation of the enginer fixing with the wrenck........... jsut a thought
---
14th November 2004
0 Uploads
#7
12 years ago
I agree that it should be a more area denial thing that causing damage. I've never tried, but I assume it's hard to kill someone with a barb only a centimeter or so long.
---
#8
12 years ago
basically, i just thought maybe they could make it more of an obstacle for infantry.
---
#9
12 years ago
Holy shit what a great "new" idea.
---
9th December 2003
0 Uploads
#10
12 years ago
Well it's not new indeed but meh. It has come up less then "include vehicle X!" suggestion.
As for barbwire, various threads in the past concluded that barbwire should only to minor damage and slow you down (you get entangled) a lot. Barbwire isn't meant to kill you, it's meant to slow you down (so that the defender can shoot you).
---