#1
12 years ago
Hello!!!!!
yesterday i see a movie about stalingrad battle.. of sniper
(i see it 2000 times lol)
well aa in a moment whan the russians enter on a abandone bulding.. and the german sniper was there.. he fire on the head of a sniper - girl
on the helmet and sounds like a bullet impacting on something of iron
it this possible to add this on FH2??
---
#2
12 years ago
would be cool but then only when a bullet hits the side of the helm becouse if you shoot on the middle of it the bullet will go right trough it. Thats why i also hope headshots will work like the should work in FH2 :)
---
#3
12 years ago
i think that´s not possible with the bf2 engine, for this the helmet would need a special damage system(different front, rear, sides armor or something like this...)
---
20th October 2007
0 Uploads
#4
12 years ago
Actually, the crucial variable that decides whether the bullet is reflected or not isn't which part of the helmet is being hit, but the angle of the impact. But I agree that this is most probably not realisable with the BF2-engine. But did the guy that started the thread actually mean that or simply a metallic *plong*-sound for a penetrated helmet?
---
#5
12 years ago
afaik, just the *plong*-sound would be possible.... ;) as this would be an effect you had to link the hit of the bullet (on the helmet) with our *plong* effekt
---
26th September 2007
0 Uploads
#6
12 years ago
sounds like a kool koncept!
---
5th December 2004
0 Uploads
#7
12 years ago
A "plong" sound would be cool. :) What about this helmet though? I wonder if it explodes if you hit it?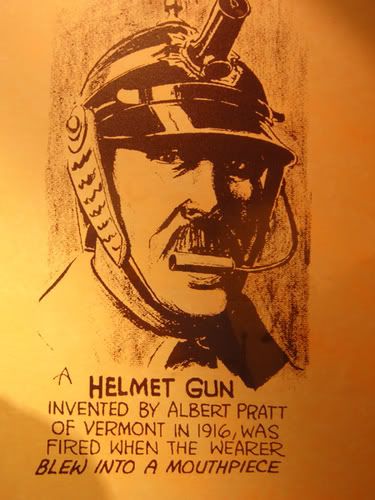 ---
26th September 2007
0 Uploads
#8
12 years ago
lol what in the hel is the point of that.haha funny.
---
#9
12 years ago
Don't forget to include the fact that the Soviets had recently introduced the M34-76 helmet that reduced bullet penetration due to it's sloped tin armour.
---
#10
12 years ago
The helmet is as pointless as a gun on a stick
---