#151
12 years ago
I support Sturmtrupp's post here. In fact, an older post of mine in this thread lists out some of the same reasons he used. Face it, kids. FH was always a realism mod. That is why medics were finally removed pretty much on all maps in FH for BF42. (I say this as I believe there was one pickup medic kit which healed teammates on crete at the bombed airfield...). Other than that, there was NO MEDICS you could spawn with. WITH OR WITHOUT THAT STUPID RIFLE/PISTOL everyone is whining about. So why now are we bitching about being able to revive teammates warhammer 40k necron style? If anything, just be happy the devs are even thinking about putting in medics, and be happy with it. I for one would (again, refer to older post) LOVE to see medics REMOVED. Thats right, removed. No more instant reviving stimms for people who dont know how to avoid getting shot. Go play some Americas Army and see for yourselves how a good medic system should really be. But ofcourse, 90% of the kids here who advocate a shock pad medic wont play that game, its too real for them. They'd put it down after 5 minutes cause they dont understand why you cant get your 'healthpoints' back after you get shot. Why you bleed. Why the useless medic can only stop the bleeding and not make them good as new 2 seconds after they were hit by an AK47 round. Why theres none of that MOHAA crap (or i guess goodness in their terms). Boohoo I say, go cry me a river, and go play VBF2. Dont contaminate good mods like FH2. And no, they cant implement eating in FH2. I realise that. Dont bring up something stupid like that and tell me its a valid reason why FH2 should be nerfed with crap from VBF2. Theres a good reason why people want mods. To get away from the stuff dice put out. Yes, I did enjoy shock paddling people in VBF2, and yes, jumping on people to save them while underfire is fun. I do it all the time. But that's what VBF2, POE2, and PRMM is for. FH2 is not about that. Good riddance.
---
#152
12 years ago
Who said something about the Giant Popcorn Ball? Anyhoo, I say, medic bag... it is the only way. If you have medics as a selectable spawn class, I dont think that removing all weapons is the way to go. To balance that out, medic bag. If you dont have medics, well then you could still have a medic bag. Yes, medic bag. The medic bag is sexy, the medic bag makes Weiss happy, Weissey likey the medic bag. Sexy sexy sexy sexy medic bag... theres morphine in the medic bag, Weissey likey morphine in the medic bag... also, Pvt. Allen can back me up on this I think, the medic bag is sexy. You too, Strumtrupp the medic bag is sexy, say it. Sexy, Sexy, Sexy. Pietje, the medic bag is sexy, is it not? Mekstizzle, what with the swearing, Im sure that you were only swearing because the medic bag is so sexy. Fat Joe, the medic bag loves you. Do you not love it, in all its sexiness.. hmm, who else? Lutzow, Unkn0wn, Hell Ranger, No.8 wire man, Hawk_345, Pay attention! You exist because the medic bag is sexy... the medic bag is your mother, and you can be found within the medic bag, she is a pick up kit. Lutzow, you are in item index 0. HellRanger, to select you, one must use the scroll button. No.8, you have been deployed and left on the field, a testament to the sexiness of the medic bag. Unkn0wn. McGibbs is still working on implementing you since there are some tricky limitations to the game engine. Hawk. Need I even say it? When you look at your name in a mirror on a full moon it spells medic bag. sexy. Sexy.
---
#154
12 years ago
If the medic bag has some morphine for me irl I might just get high enough to like it. Other than that, bleeding and medic system ala Americas Army please, despite the sexy medic bag, SacredLizard.
---
#155
12 years ago
SacredLizard;3328530Pvt. Allen can back me up on this I think, the medic bag is sexy.
Whatever... Going this way though, medic stripped of all weapons is even sexier than that.
---
#156
12 years ago
Dont make me start posting pictures of fat chicks
---
#157
12 years ago
Allen, you're thinking nurse stripped of all clothes.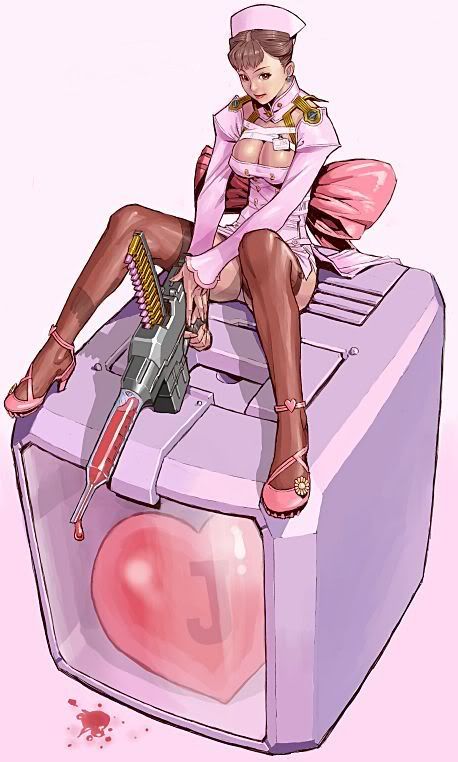 ---
#158
12 years ago
No, I'm thinking about sexy realsitic gameplay, with medics stripped of all their weapons.:vikki:
:P
---
#159
12 years ago
but don't you see!? the medic bag is sexy gameplay, the medic bag is medics stripped of all their weapons, sexy though that is, not as sexy as nurses, but nurses are a part of the medic bag, just like you and I are both parts of the medic bag. Medics need to strip themselves of weapons to get to the medic bag... its all part of the medic bag's sexy plan.
---