#1
16 years ago
When playing Midway, there's always people complaining that nobody is trying for the island flags. Indeed, when you start filling ship positions and bomber gunners, there are often too few ppl left for a land battle. Personally, I couldn't care less about the island flags on that map. It's one of the few maps with all the ingredients of a good naval battle, (and the only one AFAIK that shows up on all the good servers) and I like the change of pace from ambushing tanks and sneaking into villages. We have a ton of land combat maps, and few naval and air maps (maybe make a Marianas Turkey Shoot map?) My suggestion is to make the island an uncap US base (maybe reduce the island size to exclude the lower flag area), replace the BB's with a couple of DD's (CA's if we have them), and give the Japs an extra carrier. The ocean flags could be left in, and owning both would cause bleed for the other side. This would make it more of the straight-up naval battle it really was, and the existence of an unsinkable US airbase (offset by the extra Jap carrier), as well as a number of surface combat ships, would set it apart from Coral Sea. Any comments?
---
#2
16 years ago
Well...
The battle never came to the atoll itself, aside from the bombings. Maybe make it capable, but way back in the corner of the map, with the US fleet standing between it and the IJN.
Make the islands look like the reef, and not a regular island: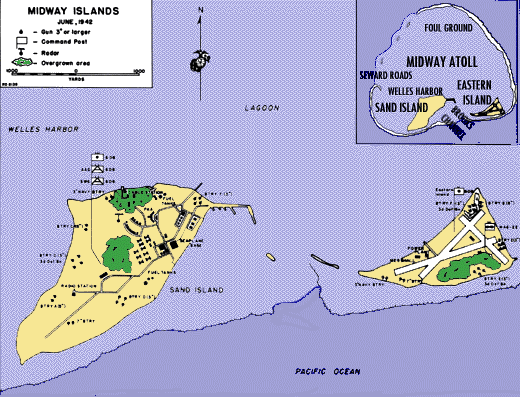 For what is considered by some to be the most important non-European battle of the war, it sure is shitty in FH...
---
#3
16 years ago
well the current a dice a conversion. The pacific shores mod that merged with FH all that time ago has done very high quality maps but has not redone it yet like wake. So eventually maybe there will be a similar conversion for it too.
---
#4
16 years ago
Dime is working in a custom Midway
---
20th October 2004
0 Uploads
#7
16 years ago
right on, sweet, hehe midway is my fav map
---
#8
16 years ago
yea I luv that map too. My favorite activity is torpedo bombing with the devastator. heaven-->
---
#9
16 years ago
I wish Torpedoes did damage. Then it would be nice.
It takes around 6 to even smoke a ship.
---
31st December 2002
0 Uploads
#10
16 years ago
A few questions because I can't decide for myself. Great find USMA by the way. I haven't seen a picture like that of Eastern Island.
Would you guys rather I design the map like USMA's colored map, which includes both islands or just Eastern Island as shown in the b/w? If I include both islands, as I have it right now, the map is set up very similar to the current Midway, in that the navies are on opposing sides of the atoll. Yes, unrealistic, but perhaps better gameplay-wise for spacing than if you stuck everything in the corner. If I include both, I can't get as detailed as the b/w photo USMA found. I have elements of it of course, but I obviously scaled it way down to save room for the ships. If I do one island, a bit unrealistic, I could make it more realistic to scale, but would probably lose Sand Island, where the Seaplane (ie Catalina) hangar and submarine base is located. That island as it is now, minus the port/hangar, is just to finish the scene, and is probably useless as the goods (AA, coastal guns) require a jeep ride 'to nowhere'. Another thing is that the atoll will have a reef that can/or shouldnt be traversible for the ships, making the coastal guns (and AA) somewhat non-factors/eye-candy.
For all I've said, I still think DICE did okay with its map, and that mine would really only be a semi-realistic eye-candy replacement. Doing the island(s) for Midway differentiates itself from other naval battles in the fact the island was actually attacked, but not in the sense that we can do it now in BF/FH.
---